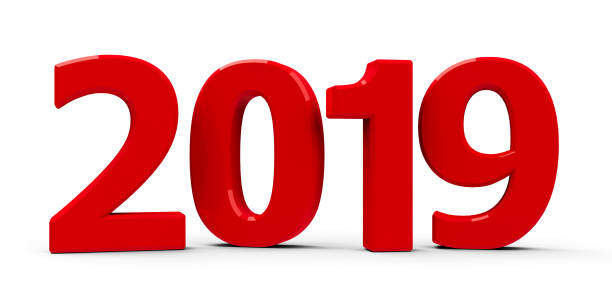 My first year in Berlin is about to end, and now it is time to look back to 2019 and ask myself: How I did this year and what I could do better in 2020?
In January 2020 will be exactly one year since I moved to Berlin. A lot has happened in the year 2019. I've met a lot of new people, by the time some of them became my stable clients, some of them I've met abroad, and some of the clients book me time by time in a certain period. It is remarkable that in 2019 I've built in such a short time – only within the year – a stable and good relationship with my former and current clients. I have established a good client base with whom I look forward to the meeting also in the future.
The year was challenging but exciting. The dynamics of my clients were very much different. Some clients were my stable clients time by time. At the beginning of the year, there were clients who I've been in contact last year and met finally in Berlin. There were clients with whom I've met in the second half of the year. And who became my stable clients after that. Some of the clients I lost, but most of them I won back.
I learned a lot from the year, and I adjusted my business terms regarding what I've learned and experienced. It has changed a lot since I started in Berlin. And in many aspects: my rules, my attitude, the principles of how I offer my services, and so on. In fact that it is not my first year in the overall escort business, it is definitely the year when I learned most of it. Although, compared with 2018, living and working in Berlin had much different experience than back when I was in Estonia. And not only because Berlin had more clients, but also the fact how sex-work business here is organized and how society accepts it.
To be more precise, it is impressive how I've met my other colleagues in this industry and how I've learned from them. Earlier this year, I had experience with my colleagues while I was with my client. But in other perspectives, I've got to know a few of the escorts also in corporate events, such as meeting discussions. We, as sex workers (or companions), are regular people just like everyone. We have our personal life, hobbies, some of them are studying and working as an employee too. Escort job means for many of us as a part-time job and entertainment.
Year in business, all wrapped up
So how was my year of 2019? In this update, I wrap the year in business. Including all the stats I have from my clients and from my experiences with clients. I have concluded every aspect of my business in this post, so you can see how I have progressed and how the year was so far to me.
Timeline of the improvements I've made this year:
In January 2019, I started to take my first clients in Berlin. In the same month I also introduced my brand new business rules and terms that became effective to everyone;
In February 2019, I opened my official Twitter account, where you can now keep in track with new tweets and essential notifications. In the same month I also moved out of my temporary apartment to the permanent residence;
In March 2019, I registered as a sex worker in Germany. In the same month I started to promote my services also on jock2go.eu website;
In April 2019, I improved my website and booking system. I moved my website to the new servers and changed the registration approval system;
In May 2019, I were proud to introduce my brand new escort logo – a diamond in the purple background;
In August 2019, I started to complete my travel plans and travel to other cities. My first destination was Munich, Germany;
In September 2019, I announced my first travel destination in 2020, which is Rotterdam Netherlands!
In October 2019, I became a member officially in BesD – an association of sex workers;
In November 2019, I completed my last travel destination in 2019 – Dublin Ireland;
In December 2019, I started to promote my services on the Sleepyboy.com website.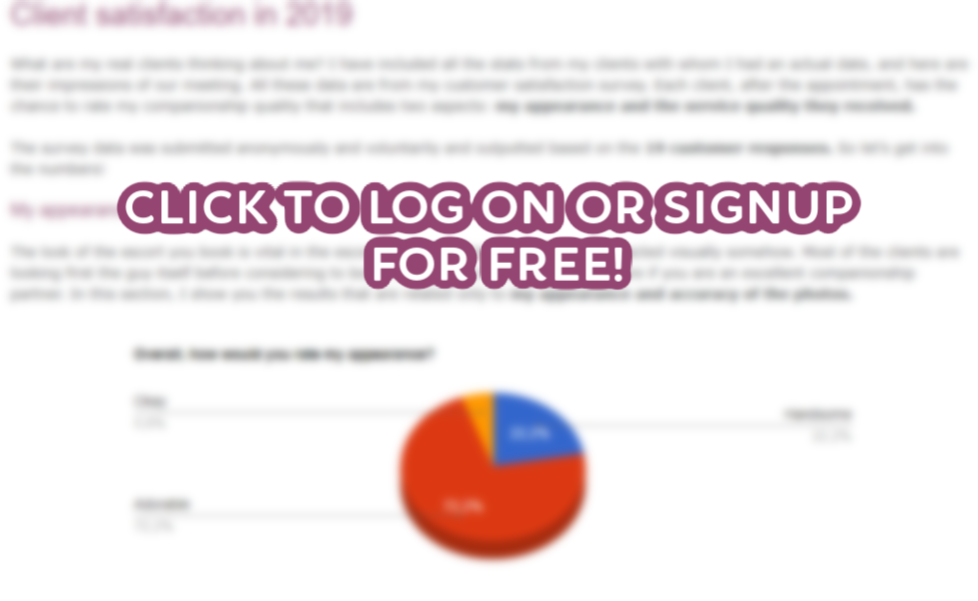 Log on to the members area to see more of 2019!
My stats with 22 illustrative diagrams, including Client satisfaction, my experience with clients and personal logbooks, poll results, and more are available for the logged-in members (see the example below).

ATTENTION! All data and stats in this post are intended to see only by you, if not specified otherwise. You are not allowed to share the information with the third party without my consent!