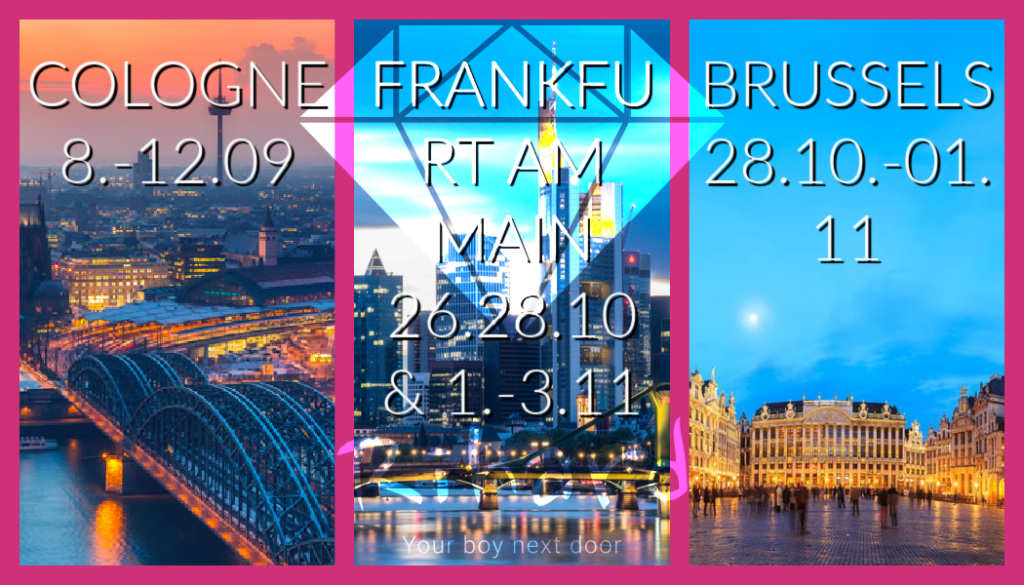 NB! My travel plans have been changed as of October 13 2022. Please check the most up-to-date information on my main page!
Berlin, September 5, 2022. As the corona rules are eased in most countries and traveling has become more manageable, I have carefully reviewed and confirmed my travel plans for the rest of the year.
My travel plans for 2022 in October-December are concluded as follows:
October 26.-28. Frankfurt am Main, Germany (first visit);
October 28.-November 1. Brussels, Belgium;
November 1.-3. Frankfurt am Main (second visit).
The pricing for the trips in 2022
This year, the pricing for the Brussels trip is the following: for the bookings made in advance till October 27 (including), will cost for 1-hour booking 120 Euro, two and more hours 100 Euro per hour, and bookings that are made on the same day or between October 28 – November 1 will cost 140 Euro per hour, regardless of the booking length.
This year, the pricing for all other trips (Frankfurt am Main on Oct 26.-28. and Cologne on Sept 8.-12.) is the following: for the bookings made in advance for 1-hour booking 140 Euro, two hours total 240 Euro (that is just 120 Euro per hour), three and more hours 100 Euro per hour, and bookings that are made on the same day or during the trip, will cost 160 Euro per hour, regardless of the booking length.
I offer 10% discount for the advance PAYMENT also for these trips.
The pricing for the trips in 2022 is different than it used to be in earlier years. Clients (and me) will be price-wise more benefited with advance bookings than on the same day or with last-minute bookings. I will explain to you why in the following article. As always, the regular pricing what I charge in Berlin IS NOT valid on my own trips unless clients are booking me privately (which is not a valid case for this type of booking). So please do not check the pricing information on my pricing page, unless you plan to book me in Berlin or privately! Also, please note that overnight bookings are NOT possible during these trips.
Benefits of booking me in advance and why
This year I announced my new pricing model, which does not depend anymore on client age but rather on when the booking is made. I offer now for advance bookings better price and deal. Here is why: Clients with advance bookings help me better plan my time and activities for the next day. Same-day bookings are unpredictable. Therefore I must put more effort not only into my plans, which may get spontaneously changed because of client booking but also into my sexual performance (for instance, if the client wants to book an online or physical service and see me wanking off, then to "find the energy" to do the same things for another session requires more work, which could be otherwise avoided with advance planning). Also, advance bookings help me to gain a better overview for the following day and accordingly schedule private meetings with friends, which must be canceled with spontaneous meetings, causing inconvenience not only to me but also to those who I have promised to meet (although it is not guaranteed).
Client bookings are, on some days, my priority first. Therefore I must take those "inconvenient" booked appointments and often cancel my other activities that were planned. On the other hand, booking me on the same day is a comfort service for clients, basically means "being always available when you want."
Holidays at the end of 2022
I have also concluded my holiday dates, particularly the Christmas and New Years holiday for the 2022 year, which are December 22, 2022 – January 1, 2023. During the holiday period, clients won't be able to book me.
About my travel plans
In 2020 and 2021, I could not confirm the travel plans due to the restrictions and bans across Europe, affected by the covid-19 pandemic. My annual Cologne trip on September 2021 was the only trip where clients were able to book me outside Berlin during this year. Certain limits took place in 2021, such as the requirement of wearing a protective mask and some hygienic measures. It is no longer mandatory to wear masks or be fully vaccinated to meet me. However, I always advise clients with symptoms to postpone or cancel our date. Also, regardless of the rules settled by me, clients are asked to follow the rules established by the hotels where I stay. That may include wearing masks in public areas. I thank you for your understanding and cooperation.
Depending on the spread of coronavirus and travel restrictions placed by the countries, my following travel plans for 2023 will be announced later, most likely in January 2023. I consider my travel plans based on the economic worthiness, the booking demand, and the other facts that make the destination attractive to me (events, location, people, etc.). The rest of the travel plans for 2022 was considered because there will be a La Demence 33rd Anniversary event held in Brussels on October 28,29,30, and 31, which I plan to attend. Frankfurt am Main is logistically convenient on my way to Brussels and financially worth based on my last trips' economic interest and experience.
My earlier scheduled trip to Cologne (Germany) is confirmed and will take place on September 8.-12, 2022.