I am covering my tenth of the week of suspension: "hygiene concept" for a resumption of escort services, my little childish hobby during the lockdown, and profit loss numbers during the crisis. This is my weekly recap, from June 5th to June 12th.
---

Week in my online services
Onlyfans: The week in OnlyFans was moderately busy. Last week I uploaded two videos and made some private videos for clients. Since I was not able to upload videos during the week, I did it on the weekend. On Sunday, I uploaded a video of An 18 y.o cute twink punishing me and spitting on my face. We played a little roleplay. Normally I don't like to post such videos, as it is my deep and dirty fantasy. And I don't practice such videos with clients. The partner must be extremely cute or sexy. Our actual meeting was designated way more different than seen on the video. We just came an idea to experiment such activity. But after that, we had some sweet cuddles and a really romantic evening together.
The other pre-made video I published just a few hours later on my OnlyFans. It was also on Sunday. In the last video of the week, I showed myself from above of jerking off. I got an idea from the other guy who published similar content on his Twitter. Both videos were pre-made earlier but just published later.
As I announced earlier, there won't be many such polls published as before. However, I did one poll spontaneously, and I asked this week the opinion from my fans on what similar content they want to see next. For that, I created a poll on my OnlyFans, by concluding the links to the most likes received videos over time. As of today, on Friday, the most votes so far received the video that I published on February 2nd, receiving a total of 6 likes and 3 comments. The video is all about showing my dick and only 7 seconds long. These other videos that got votes are playing with dildo and jerking off the big load to the table. The video that got most likes compared with the video of jerking off to the table was quite similar in terms of camera positions. However, the dildo video is much longer and shows me from different angles. There were so far 9 votes in total for that poll.
Twitter retweet campaign: The Twitter retweet week is ending today with the last post in my retweet campaign. Let's take a look at how I did this week. On Monday, I got 4 retweets and no awards for the lottery wheel. On Wednesday, I got 5 retweets and no awards for the lottery wheel. And today, on Friday, I got so far 3 retweets but no awards for the lottery wheel. On Wednesday, the best day of the week was when I got most retweets for my half-naked retweet photo.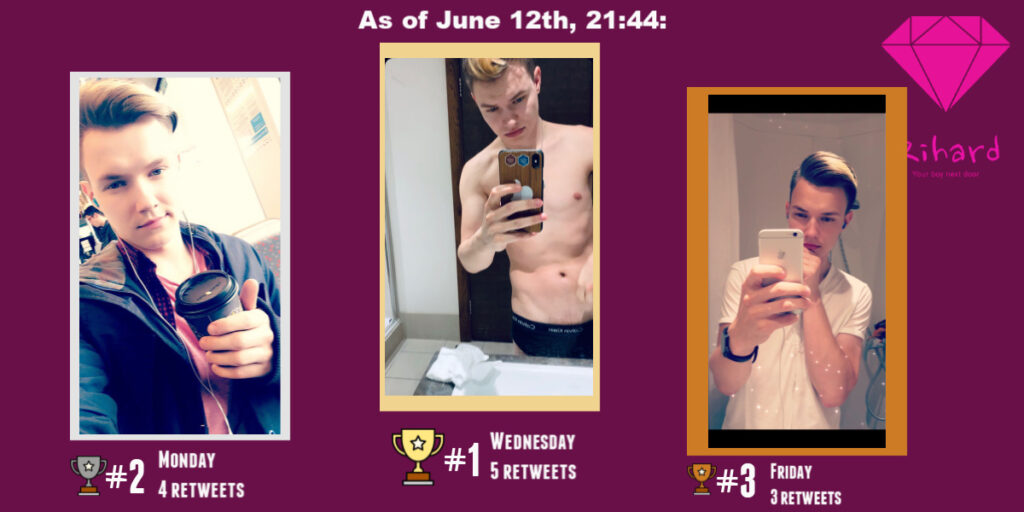 Fan store: Development in the fan store has been yet slow. I need to ultimately make it distinctive from the rest of my escort site, just like I did with the page where the Twitter retweet spin wheel is. The purpose of redesigning the fan store is to make it more complied with the payment gateway providers. To leave the impression that the fan store has nothing to do with escort services. Having said that, it is essential that I also carefully review the products I sell in my store. Then I plan to add some more products and, in the final stage, add the online payment processor. It may still take a few weeks to accomplish all this. As I have continuously postponed the estimated times, I would not give the new estimates. Still, I work hard towards accomplishing all the goals, and in the next recaps, I keep you informed of the development.
Working remotely: Like the pampers service that I offered to one client a few weeks ago, another client asked me to do similar things, but not with pampers. This week I received a message from a potential client who asked me if he can send me the underwear where I can cum inside and then send him back. You can also purchase similar services in my fan store when people are ordering not clean underwear and then adding corresponding notes in their checkout page. Until I don't have a respective payment processor, I can only accept cash or direct bank transfer. Same works with some of the other online services, such as private webcam shows and phone calls. Custom videos are still possible as part of the OnlyFans subscription. Pricing is per-minute and requires a valid subscription in my OnlyFans channel. However, I cannot process webcam shows and private phone calls over the OnlyFans platform.
---
Now, a break from the news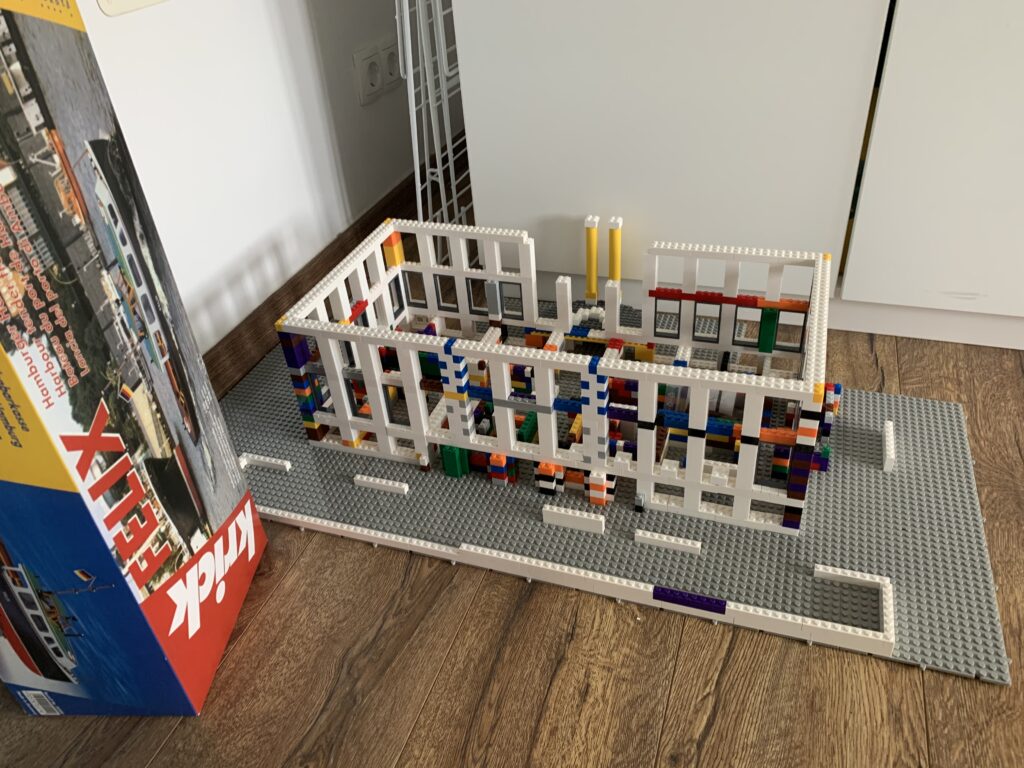 Hobbies that I cultivate during the suspension: Everyone has been a "little child." I have started with the project to build a lego house, including electricity inside, room decorations, elevators, and so on. Back in my childhood, I built many similar models, and they were impressed by many people. I found that it helps me to relieve stress and develop the thinking of creating. Last year I planned to build a Titanic ship with lots of wood, but since it takes a long time to make it, I went to the smaller project. I estimated the plan to finish this project by the end of this summer.
The experience at the shop: Fun fact is that I had to pick up my lego bricks this week at the packet shop. There is one near my house, and I try to avoid usually at any cost going there, cause extraordinary people are working there. I am talking about the packet shop which is next to the Frankfurter Tor. Literally, one time the seller there were invited me for "overnight" at the shop, having of course sex. It was a very unpleasant experience for me because the client who works in this shop started to negotiate my price. I usually don't even offer services in such places, cause its still public. I initially even didn't know that it was the shop by the address he gave me. And then I realized that. However, the seller in this shop still stalks me, and I feel harassed. Plus, they look pretty much the same by their face, so it is always difficult to recognize who this guy is who handles me the package at this time. Now that I had to go and pick my package up, I realized that it was the other person but looked the same as him. He was a vulgar and strange, so I got frustrated, and I told him: "do your job if you agree with the GLS. I don't give a shit that you cannot find my package".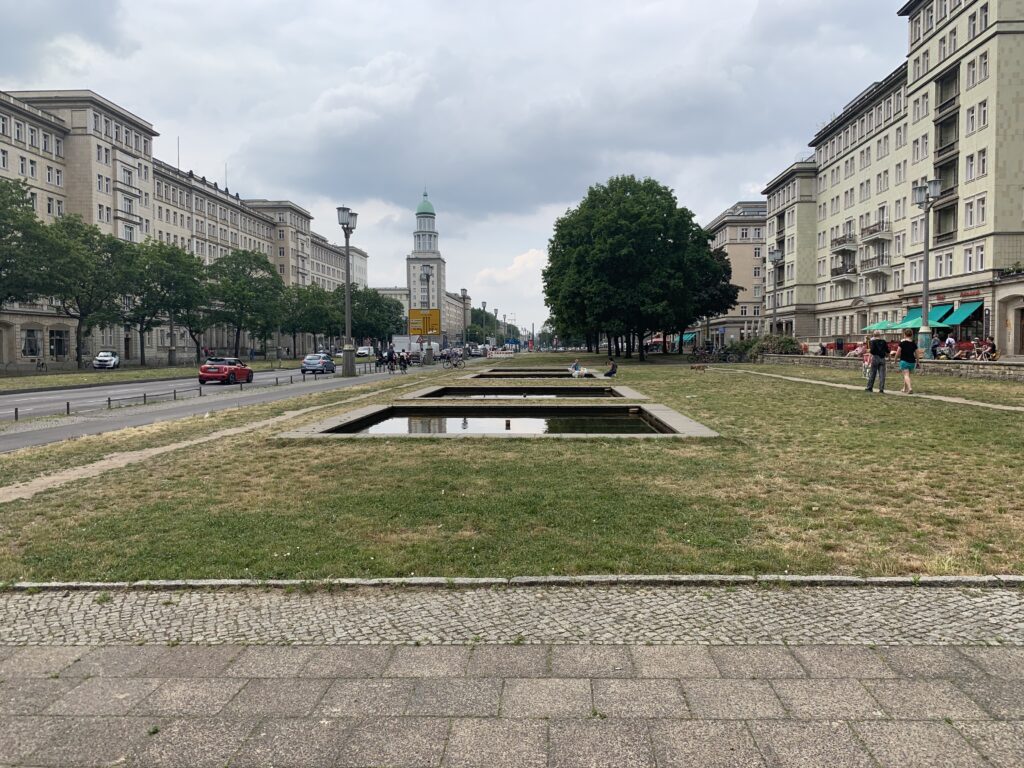 Fountain for view: The fountains next to my house are become to work again. These cute fountains were operating last summer, but last year they reopened already in May. Just a few days ago, I saw how the management repaired them and filled out with water. Before they were filled, most people went there to sit, make gatherings, and drinking while enjoying beautiful and warm evenings outside.
Me and gay porn: On my Twitter, I follow many delightful and useful institutions and people. Most of them are related to my work, such as escort agencies, associations, but also government institutions such as the police. Since I started to use Twitter for business, I also followed some porn studios, such as Helix Studios and 8TeenBoy. I found that I got too much gay porn, rather than getting inspiration for my marketing. Since I'm not into much gay porn (to be honest, I like watching only straight porn), due to massive porn tweets that went over on my newsfeed, I started to unfollow all those studios and people. I found that they are not impressive and exciting to me as well as not benefiting my needs. These are not focused on great marketing strategies and inspirations.
My plans during the vacation in Estonia: I have started making plans while I'm going to Estonia for my vacation. I am so excited to see my parents and friends, and I want to make sure that I can take most of it while I have that opportunity. I haven't seen my relatives for a long time, and as of announced in my last weekly recap, I plan to do so now. My total stay in Estonia would be at this time two weeks, which one week I plan more to spend time with friends, and the second week more with parents. I'll be staying mostly in Tallinn. But second half in the second week, in my last days before I return to Berlin, I plan to travel to Pärnu. My parents have a summer house there. They asked if I could help them with some tasks, and we also plan to celebrate my Grandpa's birthday on July 11th. These last two weeks before my planned trip, are especially busy for me. Cause I want to make sure that I can do everything I need before going on holiday.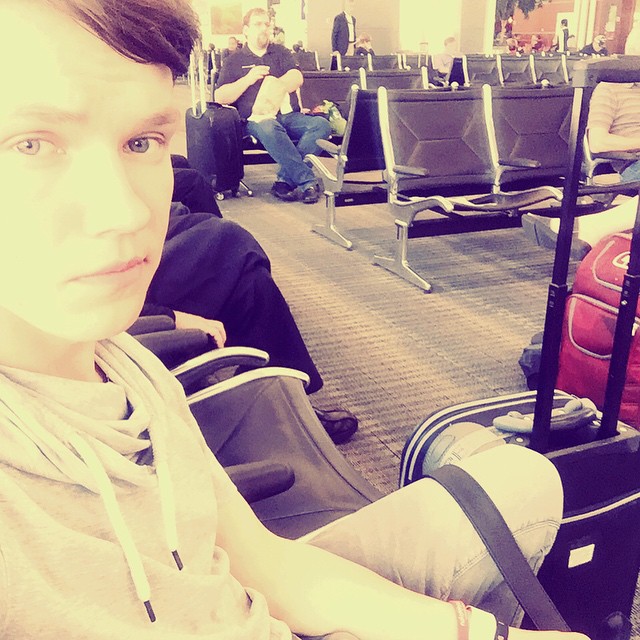 Snapshot: Throwback to 2017. "Almost 20 hours of traveling. Just landed in Washington" – these were the words I stated in precisely 3 years ago today when I went to see my friend who lives in Atlanta. In these years, I traveled a lot between the USA and Europe.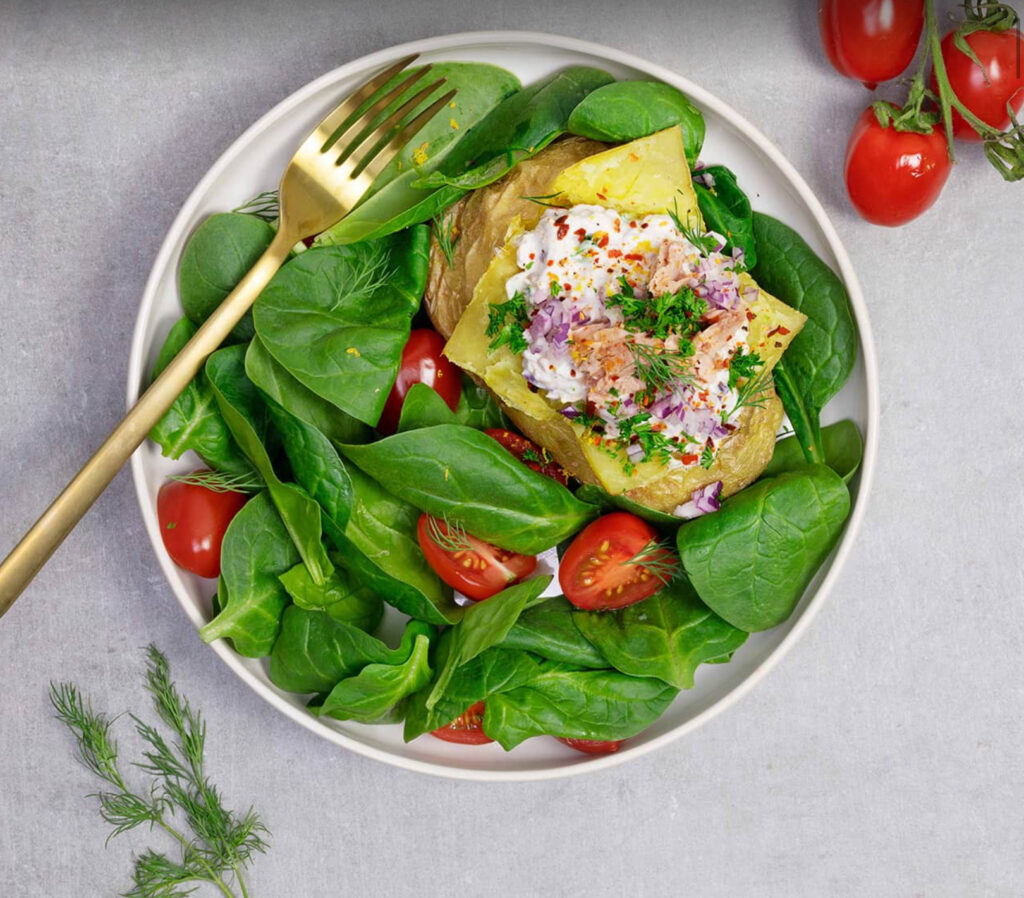 Week recipe: Baked potato with creamy tuna salad. Fast and healthy meals. The meal I cook for my dinner, usually twice a week. Wanna try it by yourself? Here is the recipe and here is what you need:
140 grams Tuna, canned in water
1/4 small Red onion
1 large Baked potato
1 tablespoon Olive oil
1/2 cups Baby spinach
80 grams Cherry tomatoes
1/2 cup low-fat Greek yogurt
Use a Microwave or Set the oven to 190C. Make a few cuts on top of the potato. Microwave on high for 8 minutes. Or bake it on a baking sheet for 30-40 minutes in the oven. Pour out the water from the opened tuna can and add it to a bowl. Cut the red onion and add yogurt, salt, and optional spices (chili flakes, parsley, lemon zest). Drizzle the oil over the spinach and tomatoes, add some salt and pepper and serve it with the creamy tuna salad and baked potato. Tip! Add some fresh herbs for flavor! Nutrition information: 37% carbs; 33% protein; 30% fat.
My tones of the week: anxious, direct, and egocentric. This week was a bit stressful for me. Lots of communication not only with clients but also with the companies. I had to complain about lots of times regarding service quality and more. I did also not do lots of workouts this week because I spent lots of time writing emails. These tones can tell that I had lots of writing. I have been 19% more optimistic, and 10% more confident. However, the new tones that have been detected from my keyboard were anxious, direct, and egocentric tones. Some improvements I've also made in informal and disapproving tones. I had been less formal last week!
---
And now, back to the news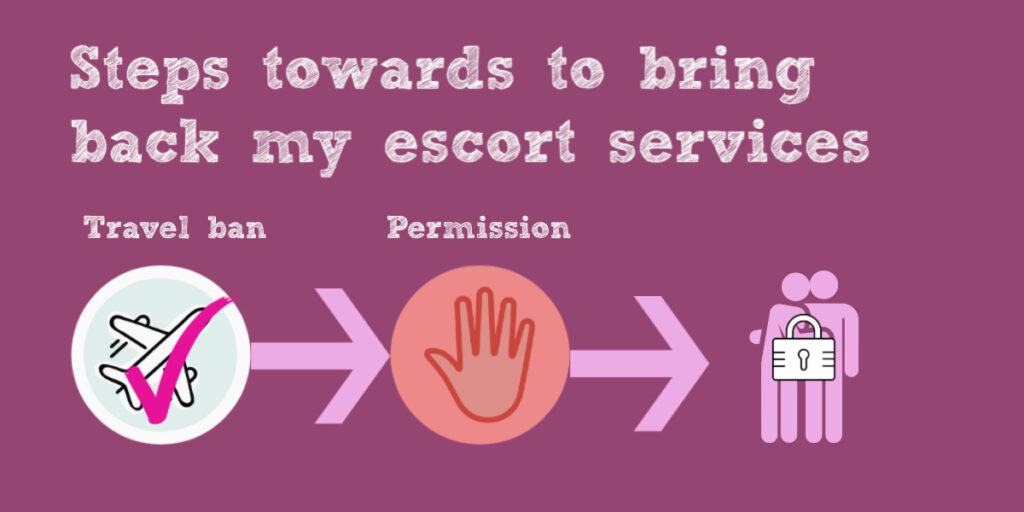 Latest information about my escort service suspension
Slowly I am getting to check my conditions towards to lift the suspension from my escort services: Even that everything seems to get back "normal," it is still early to discuss when I can lift the suspension from my escort services. But the good news is that I have removed one condition that must be fulfilled. I initially planned to meet three conditions before lifting suspension from escort services. These are: reopening the borders in Germany, reopening nightclubs, and being allowed to offer escort services by the government. Now I have decided that instead of three conditions, there must be fulfilled two conditions: reopening the borders and to be allowed to offer sex services. As of that, the condition of reopening clubs will not be required any longer.
There is one of two conditions that have already been fulfilled: the borders in Germany are open! So What's next? There must be one more condition that must be fulfilled next. It is the permission from the government to continue offering escort services. As long as they give a green line for that, I can officially announce the lift of suspension from escort services.
"The coronavirus ban on sex work, including the closure of brothels, must be lifted," said Germany's Federal Association of Sex Services (BSD) in an open letter, citing a fall in coronavirus transmission rates. The letter was addressed to 16 members of Germany's parliament who recently called for a permanent ban on sex work. The sex work industry must also be able "to generate income again and to offer customers a good service that is human and grounding for them," states the letter. The letter presents a "hygiene concept" that outlines how sex work could continue while minimizing infection.
16 German lawmakers signed a letter that stated that prostitution has the effect of a virus super spreader. They stated that "sexual acts are generally non-negotiable with social distancing." As of response, the group stated that using the term 'super spreader' in this context is extremely offensive and wrong. "Obviously, you want to discredit an entire industry to enforce your real goal, the ban on the purchase of sex," – they responded.
As in the article of DW news stated, the BSD suggests along for brothels, that sex work in private houses and in private apartments should be able to go-ahead. During meetings with clients, sex workers would have to wear face masks, and rooms would have to be aired and disinfected. Measures to ensure contact tracing would also be in place in case of an outbreak. "In prostitution, there has always been a high hygiene standard," states the BSD.
---
Why is it so necessary so that travel bans must remain lifted to proceed towards to bring back my escort services?
Some of my clients had scratched the head when I quoted about the condition of club reopenings to proceed with lifting the escort service ban. But some of them may still wonder why travel bans must be lifted, even if the government gives a green line for prostitution?
The reason behind the clubs: Initially, the idea of club reopening was the ability to make sure that I felt relaxed and full of energy. Without being able to go to clubs and get social, it can affect my well-being in the long term if I am unable to balance it with "work" and fun. Going to clubs has been my favorite things over the years. Still, it also has an essential value and reasonable entertainment for me. Of course, while I would only take clients and not spending money on clubs, it would give me a reasonable financial budget. But the clubs have played an essential role in my well being in offering escort services. Over the years, I found that not only getting social but also expressing all my feelings and emotions on the dance floors helped me feel more relaxed, happy, and energetic. And also in offering escort services. That was my main concern about putting the club reopening in place of meeting one of those conditions.
the clubs have played an essential role in my well being in offering escort services.
The reason behind the travel bans: But talking about travel bans that must remain lifted, has another way of making able to offer escort services as best as I did before. It has nothing to do with that I have mentioned before, but it has lots of things to do in my business performance. According to what I have seen since I started offering escort services, I have noticed that most of my clients who bring me escort incomes are business or holiday travelers from abroad. Making it possible for them to travel again makes a big difference—about 90% of clients from last year, was tourists. Even if the government made it today possible to offer escort services again, it would be impossible for me to survive with such a profit. Making "small profit escort business," would give wrong signals to authorities, who I am depending right now in a financial way. Right now, I receive government aid only because I am unable to continue offering my services as before. But if I would officially bring back my escort services, I would not be able to receive the corona aid any longer, and with such small profit, by taking only local clients, would not make it any better for me. So it is essential that traveling to a country would be possible to move towards bringing back physical services. Without one or two of the conditions mentioned, it would be impossible for me to continue working towards these steps.
I have noticed that most of my clients who bring me escort incomes are business or holiday travelers from abroad
Yet now, the escort services in both – individual or corporation (brothels) activities, are prohibited in Berlin.
Profit loss: Now that countries have eased down the travel restrictions, I have seen an increased amount of messages from clients interested in booking me and intending to travel to Berlin soon. Over these two months, since I suspended my escort services, I would say that I have estimated denied clients with bookings worth of 3000-4000 Euros during this April and May. And the estimated profit loss for these two months would be around 6000 Euros in total if there would be not corona. Now, if you can see how much it would come from tourists, if they are 90% of my income, you can see how essential it is for me that travelling to country is without restrictions.
---
That's it for this briefing and the weekly recap. See you in the next weekly recap on June 19th. Have a nice weekend!
---