I announce some adjustments in my online services, starting from August 21, 2020. I also announce some changes in other developments and explain the most recent situation concerning my physical services and other activities during the COVID-19 pandemic.
Weekly recaps and communications
I have decided that I discontinue offering Friday weekly recaps. Instead, from now, I provide the most recent information concerning my physical (escort) services and other useful information in my update that I publish once a month, beginning on September 4. It will be posted on the first Friday of each month, and the update will be available at the latest by Friday evening on my escort blog. The decision to stop offering weekly updates has come from the reason that it takes a long time to compose it. Instead, I can contribute that time to focus on my online services and fans.
My monthly updates will be different from weekly recaps. The format of the weekly recap will be retired. In my monthly update, you can not read topics like you used to read in my weekly updates. The "break of news" section and insight of my online services will not be presented. The focus will be only on the topics related to the current situation of physical services and developments in my business activity. More essential topics and updates will be announced earlier or later as they happen.
My weekly recaps became very popular during these three months since I suspended my physical services until I stopped publishing the updates. Thank you so much for taking this journey with me over these three months. Already published weekly recaps you can read in my blog. I apologize for any inconvenience.
Changes in my online services
I have adjusted my OnlyFans subscription benefits, and I'm thrilled to announce two new online services – CamLust and LustSnap.
Changes in my OnlyFans services
I've changed and added some features in my OnlyFans subscription.
The following free membership-included features remain the same: Free photo and video requests for the next update and Private messaging;
The following extra paid membership exclusive extras remain the same: Custom private videos and in-demand queued videos. Still, I have changed its pricing and availability. These services have dropped by 50% and queued videos extra service is now requiring membership with the minimum length of six months;
Changes in existing features: Weekly media uploads no longer contains acts with the second person. I've moved this feature to the paid feature that is available now at extra purchase. Existing media with other persons involved will be removed from my OnlyFans Vault by September 1, 2020. The video with the second person involved can be purchased as they go live. You'll get the message on each time the video goes live. You can optionally purchase the video directly in your private message. The extra service is available only to subscribers with valid subscription at extra purchase;
New feature: I have added a monthly video streaming service that is included in every membership. Each month, I announce a poll on my OnlyFans profile, and subscribers can vote for a convenient time for video streaming. This streaming is not one-by-one service. Every subscriber may see me and chat with me, but he cannot be visible to others.
There are no changes in pricing—more information about the pricing and terms you may find on the new pricing banner below.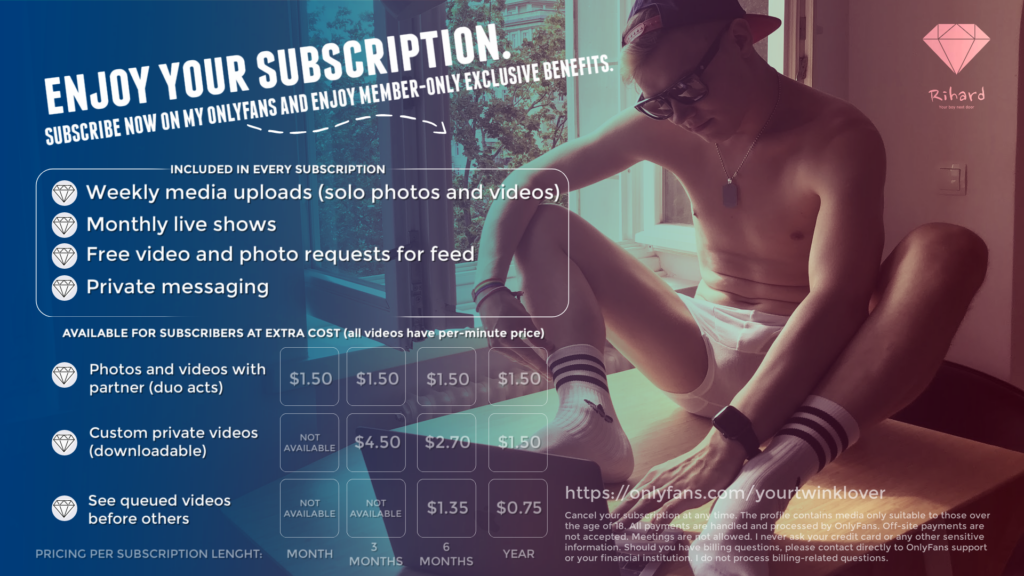 Two new online services
I'm happy to announce my two new online services – Camlust and Lustsnap. From now on, you can have a one-by-one video call with me through Skype. The Camlust platform mediates the service. So you need to register or log on to the Camlust website, add funds, and go to my profile. Also, the payments will be processed on the Camlust platform. You will be asked to deposit at least $10 to be able to interact with me (this is the rule, set exclusively by me). My new pricing for the cam shows and phone calls is now the same – only $1.40/ per minute.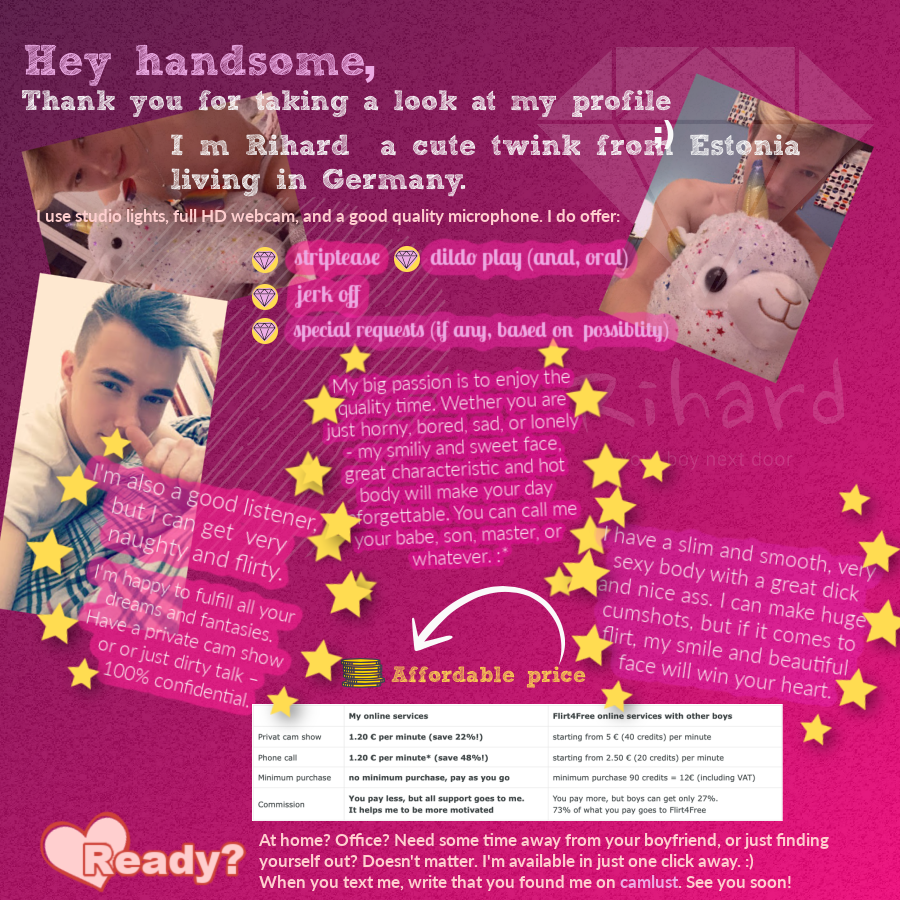 Also, you can have virtual sex with me and instant snaps on Snapchat. This service will be mediated to you by the LustSnap platform. The subscription is monthly, and it costs $4.99, which gains you access to my Snapchat account for one month. All my online services are discreet and confidential. More information you can read by clicking here.
Latest information concerning my physical (escort) services
As of always, my health and my client's health, safety, and well-being are a top priority to me. Giving the current situation of COVID-19 pandemic and understanding the nature of my business, I have come to the conclusion that offering escort services are yet not safe and cannot be possible. Therefore, my physical services remain suspended, and clients can not meet me for real-life encounters. I keep monitoring the situation constantly to make appropriate decisions. Clients will be notified in my escort blog as the new changes are announced. Unfortunately, I cannot provide any more detailed information at this time.
In other developments
My website is now fully multilingual with the German language. However, some pages where it is necessary, are kept only in English. For instance, my blog posts and news will remain in the English language. You will not be able to change the language on these pages using the language button.
I've updated the page where I offer my online services. The page where you can see the options for live cam shows has now renamed and will be titled as "online services." All the information related to my online services is available on this page. I also simplified the information and gave the brand a new look for the page. You can read on this page the Q&A (Questions And Answers) from the most popular topics related to my services. Click here to visit the page.
I've moved all my links (connections) to the AllMyLinks.com platform. My private social media links that are not listed in the escort marketplace you can purchase at extra cost. Click here to see all my links.
My Twitter retweet campaign is resumed starting from August 17. You can read more about this campaign by clicking here.
I now accept online donations! You can make donations on my LustSnap page, using your credit card. All transactions are secured and processed by a third-party vendor. Click here to donate.
While my physical services are paused, I have time to improve my future services, which also includes physical services in the future. Currently, I am still investigating the payment solution for credit cards. Unfortunately, it takes some time. Finding the right payment processor isn't an easy task at the moment. The potential payment solution will also be used in the future in my Fan Store, where I currently work to enhance the product list.
As of August 21, 2020.