I am covering my sixth week of suspension: My OnlyFans subscription prices dropped down, hacker attacks against my escort blog, and scray emails from clients. This is my weekly recap, from May 8th to May 15th.
---

Week in my online services
My prices have dropped down: This week, I announced that my subscription prices in OnlyFans will go down by 66,73%. The new pricing adjustments have taken effect on Monday, May 11th. I also added that the adjusted subscription price will not affect the frequency of posting the content. Still, there will be fewer discounts expected in the future.
Continuously asking feedback: Last week, I created a poll on Twitter, to find out why my subscribers have unsubscribed from my channel. As I have seen time by time that the increases and decreases in my follower count. The idea of knowing the reason was not that being unsuccessful. As my fans are essential to me, my purpose is to provide them as many possibilities as possible, to keep them and not losing. Therefore I have asked my fans about the content they are interested in by launching several polls, asking their opinions and ideas, and so much more. Also, I had posted during the pandemic even more content on my wall and being more active than back when I started. The idea to launch the poll was to understand and get to know them better.
Most cannot afford the subscription: The poll was open for one week, and I got terrific results. Also, an active discussion regarding being successful. Most (41.7%) have answered that they cannot afford the old subscription price, starting from $15 per month. Then 25% of the total have responded that they are not interested in subscribing. One of them answered that he would rather spend money to meet me physically. 16.7% answered that there is not enough content, and 16.7% responded that there is no relevant content.
I have seen that stats have become a reality: After reducing subscription prices, I have seen a rapid increase in my fans count. Since then, I have seen how every day I receive a new follower, without even marketing it. Most popular is still a monthly subscription, though.
Other creators have thought: I have been discussing with one of the OnlyFans creators as well, a 19yo guy from England, who was commenting on my poll. He said: "For me, most people aren't subscribed because they just don't pay for porn. Not many people do pay for porn anymore, so your main obstacle is how to get people who have never paid for porn to pay for YOUR content. Try and think about what would make you pay for content and make that!"
A marketing idea on how to get more followers: I have reviewed his Twitter profile, the content, and his OnlyFans pricing model. Seeing what he has done in every aspect, I got some inspiration to make changes in my account. One of them was the reason for lowering subscription prices. He has put as minimum as possible the subscription price on OnlyFans (which is currently $4.99 as minimum allowed amount). In contrast, he cannot have fun with others on the video. That was actually the one thing that concerned my fans a few weeks ago. Still, I was never thought about reducing my subscription price as he did (its a good idea btw). And he is trying to get more people engaged and gain more followers by asking to do something. What I have seen, for instance, he asks to retweet some of his tweets, by allowing him to get the chance to see more of him or give away special discounts. Then, whenever people are retweeting his post, it will automatically appear on other users' posts, which actually gives a good marketing power. Because the other user may have caught the attention on that guy, go on his profile, and get engaged. Its like referral – you recommend someone, the person will subscribe, and then he gets motivation reward from you. Right now, this guy has 18.1K followers on Twitter and 6.3K likes on OnlyFans.
Restrictions that cannot be circumvented: Unfortunately, I am unable to post daily content on my OnlyFans wall as he does. Due to my busy schedule. Currently, I allow my fans to see new content from me at least twice a week. More content than I have previously posted can be watched again, as they will not get deleted or vanished.
---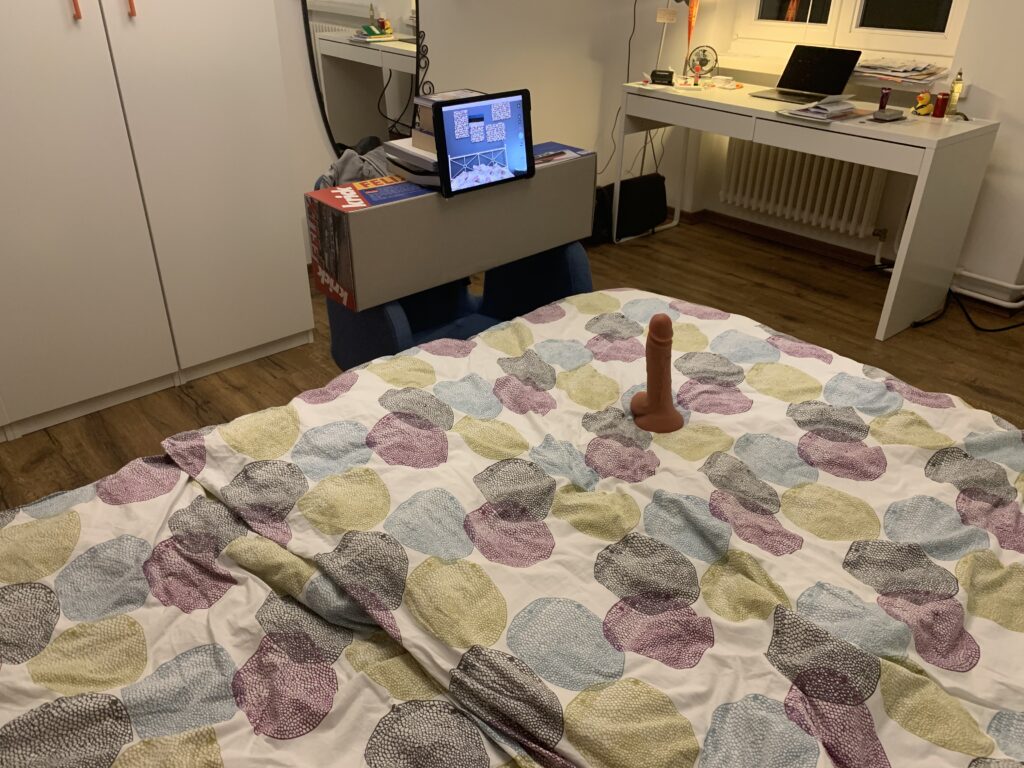 New content on OnlyFans in this week
My first video with dildo: On Thursday, I posted a new video of playing with dildo, just to try out how it works. I remember when I was a kid, I had kind of fantasies of playing with it, but never actually were successful. Back then, I could not order the dildo and not go to the sex shop and buy it. So I did the self-made dildo with some clay. It was not successful, because it was not suckable first of all, and when I put it in my anus, it started to collapse. Also, even if it would be possible to go to the sex shop and buy it, I would be so shy to step in and do it, as I was totally discreet and embarrassed to do such things. Nowadays, it is much more comfortable. Especially that you can order it online, and it will be delivered to you without anyone noticing it, discreetly.
I received my dildo two weeks ago, and I just started to try it out this week. I made my first video for OnlyFans subscribers to see how they like it. So I started with simple sucking video. One of my fans said: "I like the dildo. I'd love to see u lick it slowly teasing as u do it. Licking with the tip of your tongue and taking it in your mouth and giving a blow job." My first video with a dildo is now available on my OnlyFans subscribers, and more videos are coming soon. I also plan to post a video of putting it inside anal. As one of the subscribers has said: "my personal preference is to see it in your ass since I am not into oral sex at all. Thanks!"
More polls and more fun: Despite that, I have been more engaged with my Twitter poll as described beginning in this recap. I also launched, as mentioned in the last weekly recap, a poll about asking on May 7th about the sexiest thing, which can also be defined as a fetish. Most have answered that underwear is the most attractive part, which did not come surprisingly. But equally, subscribers have asked that outfit, eyes, and attitude/behavior can also be quite sexy. Find out the final results below.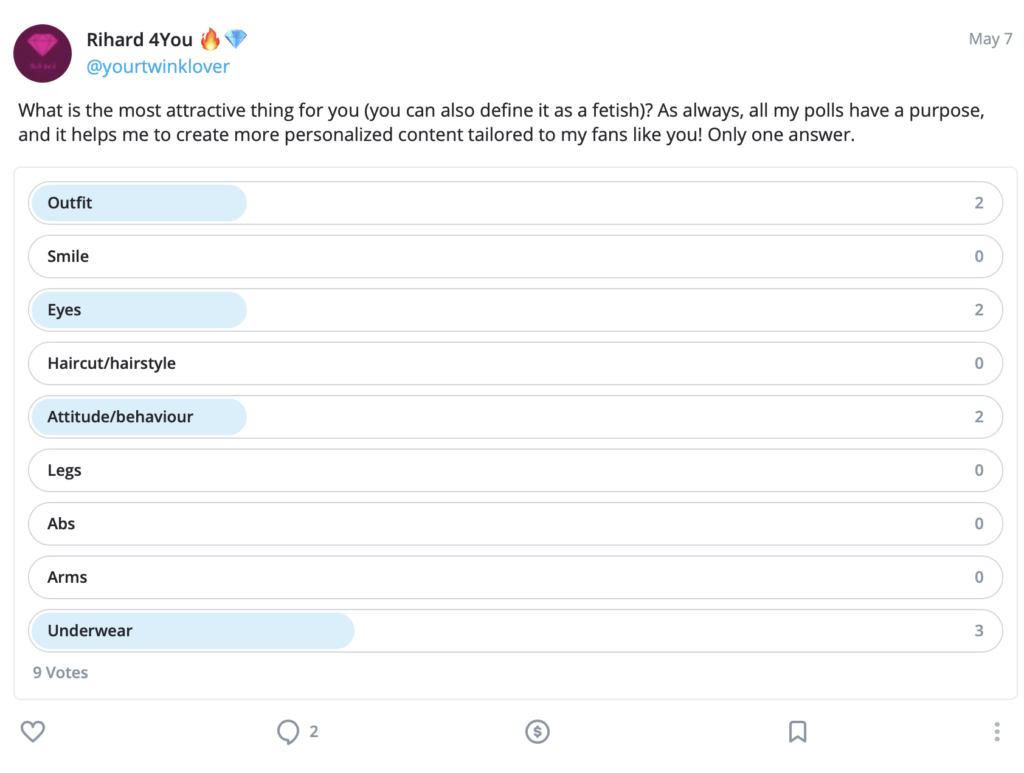 Most popular content this week: In Mothers Day, on May 10th, I posted a video on my OnlyFans page, which got lots of likes and positive feedbacks. The birthday week, I ended up with some horny video. I had a big load of cum in my condom. Those lonely horny nights in quarantine makes you want to get pregnant from me so I can wish you a Happy Mother's Day? I could be a good, naughty, and horny husband to you. Find it out on my OnlyFans!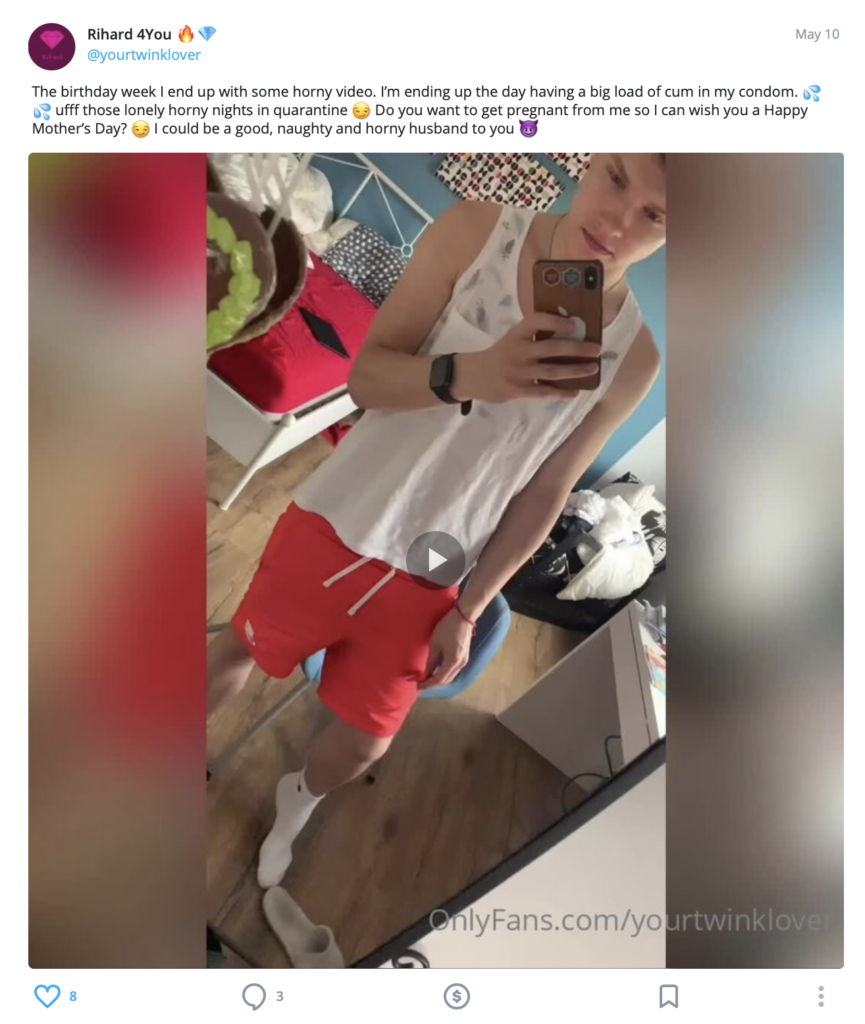 ---
Plans for the next days/weeks and my other online services
Poll on OnlyFans: On Thursday, I launched another poll, and at this time, I asked the opinion about dirty talk. Part of my online services during the escort suspension is also offering a paid dirty talk on video cam or over the phone. But for my OnlyFans subscribers, I can do it for free as part of the membership. That can be the public membership included dirty talk that goes to my wall or the paid-extension for the private recording. Clients can still have a service without subscribing. I offer a private phone call over the phone at a fixed cost as part of my online services. The full results of the poll I announce on my next weekly recap. If you are subscriber, you can now vote for the poll until Thursday, May 21st.
Private exclusive video to the client: One of the videos that I am going to do for my fan exclusively in the next days is wearing client-ordered sailor outfits again (his favorite). And licking/sucking a nice Banana…just like I am giving a BJ. Moreover, it would really get him going to watch me squirt some cream onto a nice long Banana, then lick it off and take it deep in my mouth- teasing all the time. Stick my tongue out like I did in my vid of running at night, as he thinks it looks cute. And while I am at it, I could also squirt some cream on my legs/thighs. He said that it would get him so hard. That video will be paid one as it will not go to my wall. But my fans can always request the videos they want to go on my wall, and whenever they are on my wall, it will cost anything extra. For other (private) requests, I charge according to the subscription and video length. More information available on my OnlyFans page and upon communication.
Private webcam show to the client: Also, this Sunday, I am going to hopefully have my private video show with one of my OnlyFans subscribers, using the dildo again. Having now dildo seems quite popular among my fans, and I'm thrilled to produce more videos. I am so happy that I made that purchase and ordered it finally! Of course, thanks to my beloved subscribers on my OnlyFans, who have given me the advice to have it. In case the private video takes place on Sunday, then more about how it went, I will tell you in my next weekly recap.
Also, I planned to post a new sex video with another guy last weekend. Still, it was not happening because we got some plan changes, and the busy morning was cut off our plans.
Currently, I am still concerned about how my fans can pay for my online services, such as private phone calls and a webcam show. I haven't had time yet to look for the possible online services, as I have discussed in my second weekly recap on April 10th. I have suggested making payments temporarily, using Transferwise. Many of my fans have asked still if I can take payments through PayPal. Unfortunately, as I had announced already earlier back in October 2019, my PayPal payment methods are no longer valid. Therefore I am unable for certain circumstances to accept the payments using PayPal. As some of my fans have asked, if I can also take payments through OnlyFans tipping system, the answer would be yes – in temporary wise. But of course, in the long term, it would not be possible. As OnlyFans already charges 20% of the commission. That fee would be passed to my client, which would make the service more expensive, as stated on my pricing page.
I am working these weeks to find a proper solution to getting paid from the webcam shows as well as private phone talks. Meantime I thank you for your patience, and I apologize for any inconvenience.
Free month of membership: I introduced a new referral program this week that allows my subscribers to get a free month of membership. Basically, you need to share the unique link (generated just for you), which you may find on my profile, and then share it with others. Whenever someone subscribes to my profile, using the unique link, my subscriber will get one-month free membership of each who has referred through the link. It is that easy, and that's how it's done. I also published an introduction video on my Twiter, which you may find in my Twitter post.
---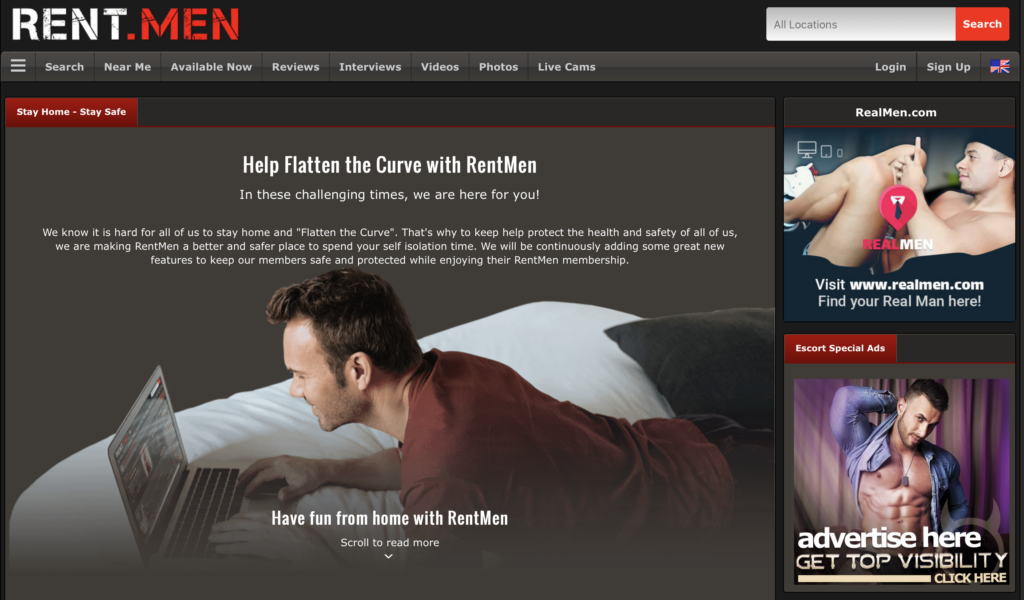 Trends and tips in marketing during the escort suspension
Escort marketplaces during the crisis: Although I am not actively promoting my escort services right now. Some of my ads are temporarily frozen. I had taken some time to see how my ads were doing on the particular escort marketplace. And compared the stats now versus before when my escort services were available. My ad on the HUNQZ.com website is still active. I get weekly lots of messages from clients asking my prices, availability, and even some stupid questions like "What I am looking for?". While HUNQZ (which is running in the same company as Planetromeo website) has announced a few weeks ago how the website traffic went down during the pandemic, RentMen have stated that their traffic went up in this crisis.
RentMen advises using the time when everybody is home and online to get to know each other. "While it may seem like a horrific situation, be sure it will be over soon. Share your favorite things, your turn-ons, and your turn-offs. Make future meetings more fun and be ready to get the most of them when all this is over" – have been advised on their page for clients. They have even made it available that escorts cannot completely hide their profile, but adding so-called "Safe Mode," allowing clients to contact. But at the same time, for escorts to show other users that they can accept future bookings or offer online services. At the same time, not prefer to meet people in person. Can it be a realistic option?
Six weeks ago, when I announced a temporary suspension for my physical services, I have carefully considered whether to freeze my membership or not. In the end, I came up in my mind to froze my ad. And for the simple intention to not mislead clients with false information. When I say: my escort services are suspended, it means a clear and direct statement that clients can not book me when such services are suspended. Since we still don't know when the crisis will exactly escalate, I cannot agree with the statement about "Safe Mode." It may give my client the hope that they can still book me. And having said that, I cannot fully agree that I can take future bookings right now since we don't know precisely when it can be possible.
On the other hand, as long as the crisis will not take years (based on scientific studies not realistic), I can agree that I retake escort services after the crisis is over. But I cannot give the exact date when meeting clients can actually be possible. Therefore I cannot make such promises, and I cannot say now that yes, I take the booking and make agreements. Still, in a few weeks or months, I must cancel them due to the continuously lasting crisis. It is hard now to make such predictions and allow my clients to book me. Also, financially, it is not wise to make such business commitments and expenses. At the same time, there is no actual income from that.
---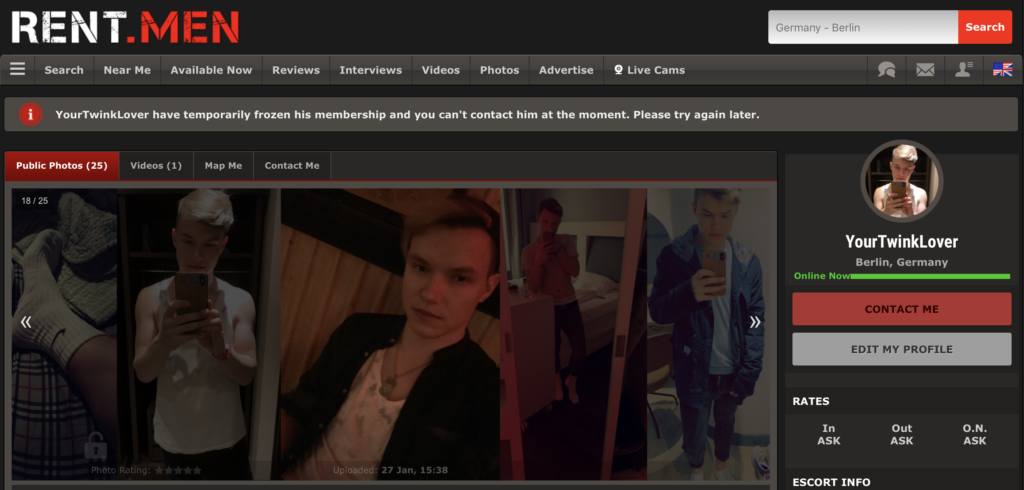 Traffic on my ads before and during the pandemic
Compelling numbers in stats: Saying that my escort profile has clearly written about not to book me now, I get still messages and visitors, mainly on HUNQZ.com. But also visitors and fewer messages on those websites like RentMen and Sleepyboy.com. I had compared my visitor's traffic on RentMen from when my profile was visible and escort services available versus now, with the current situation.
My average visitors within 30 days as of October 2019, was 5057, and contact clicks around 116 in 30-days.
After I have frozen my ads and my profile became invisible, as of today, the visitors on my ad are expected around 73, and contact clicks 0 in 30-days (with the period of April 15-May 15).
Interesting numbers in math: I did some math and based on the period between April 15-May 15. I calculated the following value: During the pandemic, in the worst days, I have no visitors (coefficient 3:30, occurrence: 0,1) and in the best days up to 9 daily visitors (coefficient 1:30, occurrence: 0,03). That makes an average of 2 visitors per day on RentMen during the crisis. In October 2019, when there was no crisis, in the best days, I had around 100-200 daily visitors, and in the worst days, I had up to 70-80 visitors per day. Which made the average of 169 visitors per day on RentMen. In the HUNQZ website, I still receive around 10 messages every week.
---
Clients reacting to the slow communication speed and response delay
Not reading profiles: Most of the people, regardless that I have warned on my profile, have been disappointed to receive messages in such a significant delay. Some of them have even insulted me with the review that I am fake because of that fact. Just because they are not getting a fast answer these days and not reading profiles, they start to bark like a dog. For one of those I have written this week the following text:
Sorry sir, do you read profiles at all before you interact? My profile in English is clearly written: "I am answering my messages extraordinarily longer than usual." What is difficult to understand? Do you think that we escorts are clowns that we write the profile information just for fun? Sorry, but there is nothing to complain about. You acknowledge that the response speed is slow, as I don't offer physical services right now.

The response I sent to the client on HUNQZ on Monday after he complains about an Answer after 6 days.
---
Developments in Europe give a favorable opportunity to get closer to bringing back my escort services.
Europe's goal: Reopening borders in time for tourism and how it impacts my escort services. As past weeks I have written about some conditions that have must be met to bring back my escort services; there is some good news. This week the media have talked a lot about Europe's plan to lift the restrictions from the borders. Also, Germany aims to end coronavirus border controls by June 15th. There are still some restrictions that may not allow yet to bring back my escort services. Still, definitely, all that has been told this week is a great hope that we are moving a step closer. To slowly reopen all businesses, including the escort business. Even though it is still too early to discuss the timeline when my escort services have become available, the aim to establish tourism some hope. As I have told in my previous recaps, there must be three conditions fulfilled to get back normal. And one of them is reopening the borders and getting back tourism. I keep closely monitoring the current situation, and I let you know about any progress towards to escort services in my next recaps and tweets on Twitter.
---
Now, a break from the news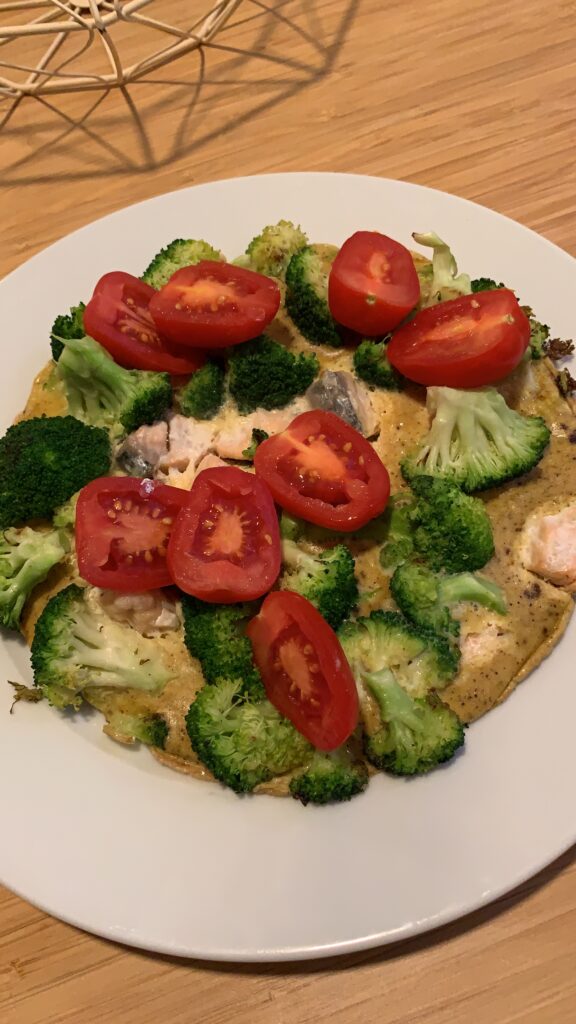 My daily routine during the suspension: Back when I suspended my escort services, I thought that it is not the only vacation for my ass or dick. But also a vacation for my busy life. Heads up – I was wrong! I do have time from the escort services. But I have found many amazing activities I can focus now, as the time allows. So how does my life looks like now?
Typically my day starts around 9 o'clock in the morning. I wake up, brush my teeth, and then start cooking breakfast. Getting started for the day takes for me about one hour (including getting out from bed, brushing teeth, and preparing my breakfast). Then my mourning routine ends with some mental training. I do every day from Monday to Friday, a little brain exercises (such as math, logic, problem-solving, and memory exercises). Depending on my day, it continues either with grocery shopping, cleaning my apartment (cleaning apartment sometimes takes 3-4 hours), and calling to my parents. Then I cook my lunch after what I continue doing my studies, such as language studies (currently learning German). Language studies take about 30-60 minutes. Then I do finance and budgeting (for business and personal needs), answering my emails (marketing and personal ones), and then its time for a snack. After snack, depending on the day, I usually call my parents to check if they are doing well. It takes about one hour (cause they live separately and each of them I have to call individually). While I become to feel hungry again, after while having my snack, its nearly time to get my exercise goal done. I go jogging about 30-50 minutes average, three times every week (usually from Monday to Friday). Then its time to cook my dinner. Preparing and cooking the dinner takes an average of 20-40 minutes. Then if I have time afterward, I do some videos for my OnlyFans; I answer to messages from my friends, clean the dishes and prepare for the next day. At the end of the day, I brush my teeth, and on regular weekdays I go to bed by 23 o'clock, sometimes a little later. That's it pretty much, my classical day. On the weekends, I cut off some activities, such as learning and workouts, to keep it more comfortable, chill, and relaxed. So as you see, I have quite planned on a busy day, even if I'm not escorting!
Attacks on my website: This week, I got a bad surprise. I noticed that hackers have sent a malicious post in my blog, which I quickly saw and removed the post. After checking the log files, I have detected that hackers were from Russia. They have tried successfully to post in my escort blog an article containing lots of malicious texts and links and not allowing me to delete it in the administration panel. So I have had to go in my system files and manually remove the post. I have not experienced such activity since I started to use my escort site. It was the first time I got such a surprise. As of now, I have strengthened my website firewall security system by adding some extra security shields to reduce the chance for further attacks. I also updated my website and banned the IP addresses from which the malicious attacks were coming from.
Paying back my workout debt: Last week, I did not do any workouts on my birthday week. I don't feel proud of myself. However, this week I decided little to push me up and pay back the week when I was lazy in a workout plan. To compensate for the last week, I do more workouts this week than I usually do, which means one exercise every day, until the end of the week. I said to my friends even that I should allow myself some "lazy days," especially when I had a birthday, it is still for me not acceptable. In those lazy and unmotivated days, I feel like I have to do nothing for one week. Generally, I am the type of guy who likes to keep myself busy and productive as possible.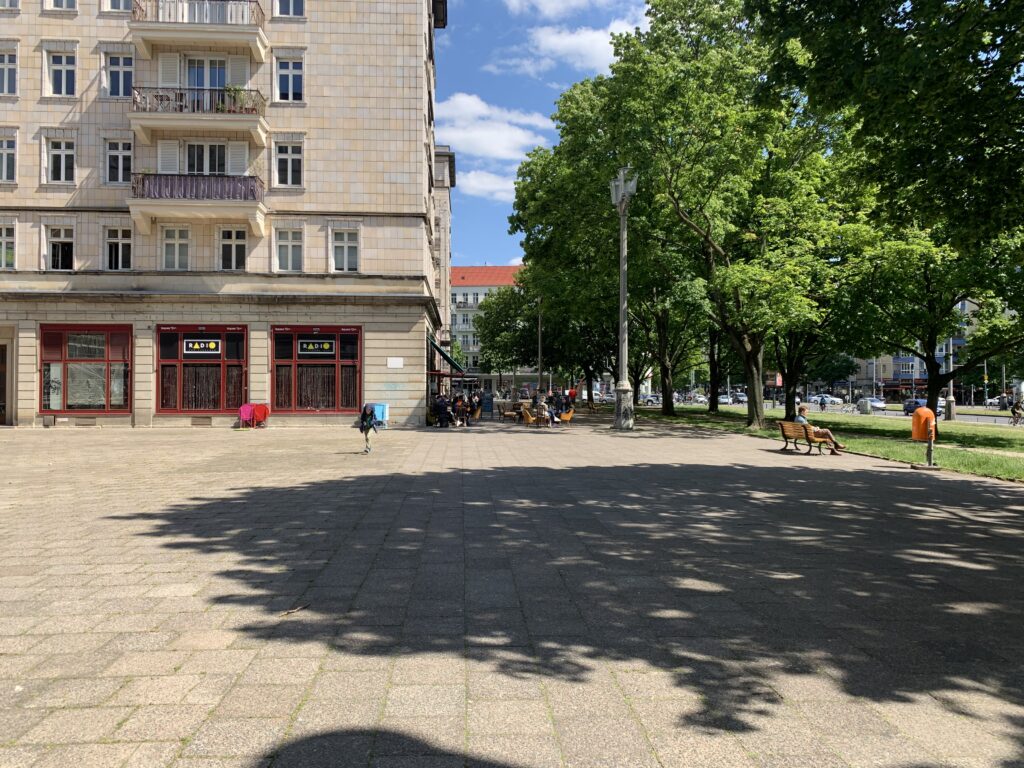 My favorite bar opens its terrace: The Radio Label bar has reopened its terrace. Finally, after a long break, they are now allowing their guests to sit down, and enjoy cold (or warm) drinks. It is excellent news for me, my friends, and why not – my clients – who are planning to meet me as a friend during the escort suspension.
My tone of the week: Informative. What an amazing and productive week I had in writing! The everyday writing with my clients and friends has brought new stats in my writing history. The informative writing style has a figure most in my last week's writing style. Neutral style occupies the second place, and third place belongs to the appreciative style. But heads up! There was a new tone detected: disheartening. 🙁 Find out the complete stats below.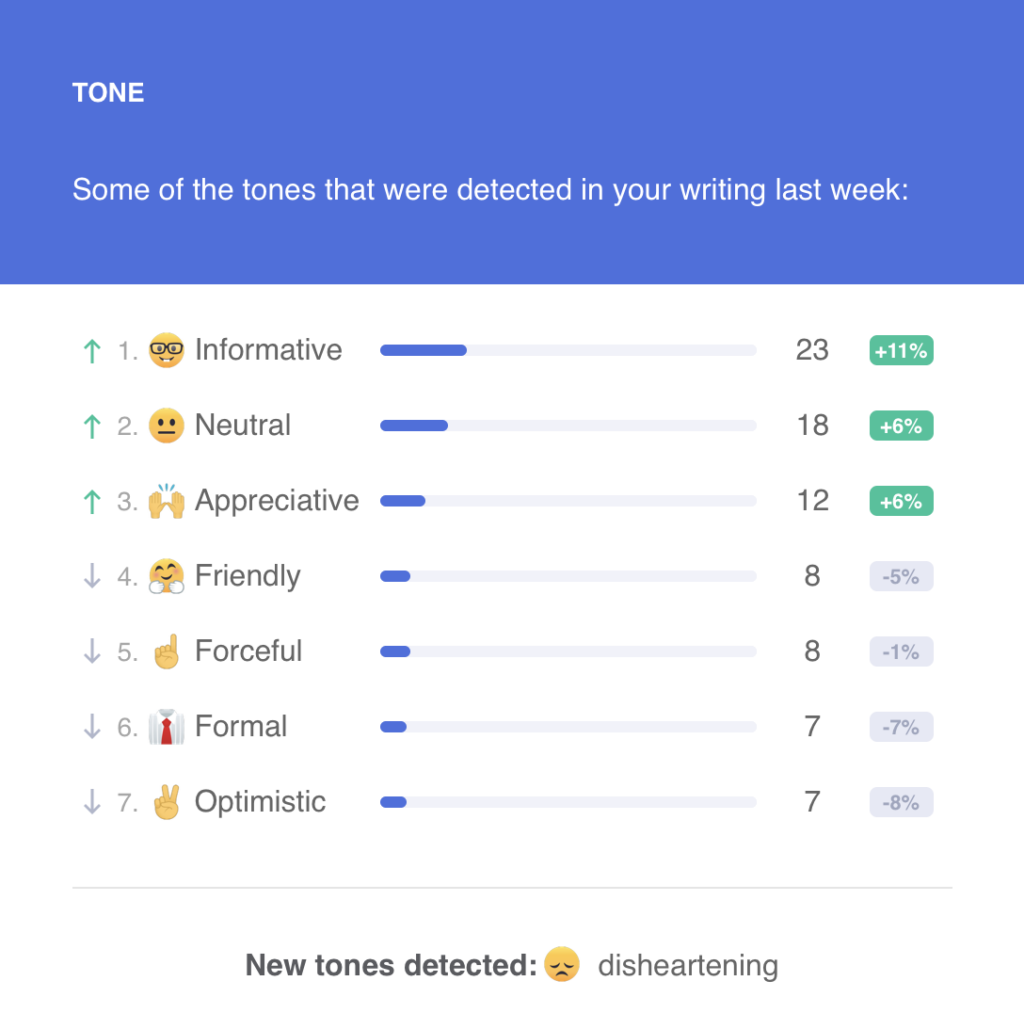 ---
And now, back to the news
How my clients and investigators are trying to entertain themselves during the escort suspension
Most interesting orders and demands during escort suspension: I have talked a lot about interesting fetishes from clients. But how are these applying now to me while physical services are not possible? Well, let's find out about it in this article!
While I cannot provide physical services, clients who were previously booked me or not yet, have asked different things. For instance, some clients have asked me to buy some specific clothing or supplies. Like a seaman hat or even simple things like banana, to produce the video shows by playing with them. But some clients asked me to wear pampers, wear it, and pee in it. The one client who I remember he was booking me for a while ago, asked if I can meet him up, take the fresh pampers, wear it and pee in it, and then return them to him. The client fetish is that I am his baby boy. Like the fetish products that can be purchased in my Fan Store, the pampers work the same way, although I am not selling them in my fan store. But clients with the delivery fetishes can do it in the same way. The service suspension has brought a lot of interesting ideas for how clients can entertain themselves. In contrast, they cannot have physical services from me.
Scary moments: This week, I received an interesting, but a frightening letter from one of the clients who were in contact with me before. He wrote to me in his email on Saturday, May 9th, he is now in the clinic, and begs me to send him 1 or 2 pictures before he leaves on this planet. I have been scammed and tricked by many similar scenarios from clients to squeeze out the naked photos without subscribing to the paid content. Therefore I was also a bit skeptical to him. Hence I did not send him nude photos. Instead, I sent him back the email by saying how sorry I am, and may God bless him. If it is really true that he is about to die, I apologize. Still, since I have been tempted by many clients getting my naked content (starting from promises of being an excellent friend to the booking promises), I have become very suspicious and skeptical. I checked in my booking history whether he has booked me before, but have found no records, only email threads.
Related to the client who sent me a message, a year ago, I met last time a client who booked me a lot. Back then, I had no such things as client levels, but I would consider him as being my Silver or even a Gold client. However, he booked me a lot, but one day he just disappeared. He did not answer any of my follow up emails and text messages. I did not want to call him to respect his privacy, but I was anxious and concerned. I remember that our last meeting with him was terrific. He was so keen to meet me again, so he already scheduled another appointment, which never happened. Today it hurts my mind because I knew he would always answer me, but one day – nothing. It is now a year since I have no contact with him and whether he is alive or not – I don't know.
---
Changes in limiting client meetings as friend
Starting from this week, I limited the possibility for my particular clients to meet me as a friend during the escort suspension. Instead of the opportunity for my specific client to meet me once a week, it has now changed to once in two weeks. The main reason is my capability in time. I see how busy I have become these weeks, and sometimes it makes it impossible for me to meet other friends, while they keep my calendar full. I find it charming that they still want to meet me. Again, I want to give everyone equal possibilities and allow me to meet different people on a weekly base. My other friends have already complained about what I am doing so that I busy every weekend. It is a bit discreet for me to mention that I keep my clients engaged while I do not offer escort services.
---
One year ago…
Did you know that one year ago, In May 2019, I was proud to introduce my brand new escort logo – a diamond in the purple background? Yes, my escort logo is now one year old! It was designed to symbolize quality and purity. #timetolookback #throwback#2019 #throwbackto2019
---
That's it for this briefing and the weekly recap. See you in the next weekly recap on May 22th. Have a nice weekend!
---