To provide you the best service as I can and keep my business with you transparent, I have the rules that you need to follow when you book me. PLEASE READ THESE RULES CAREFULLY.
HEADS UP! My rules might seem to be complicated, but that's not actually what it is. Keeping things transparent and honest is my utmost priority, and sometimes it requires describing things more "detailed." I promise that I am just as normal as any other guy, and our date will be just like you meet your best friend. No one wants "bad surprises," neither do I. And probably you too. By reading all my rules, you can rest assured that everything goes "as described," and you don't need to worry about anything that could go wrong. Most guys may seem a lot less complicated than me because they don't have such a "list of rules." But that doesn't mean that they have them less! I have the same rules as most of the escorts, and they are really simple.
I value my client's time. Therefore to avoid any unpleasant "surprises," I strongly recommend read my rules below, as they will apply to you. I also recommend reading my Safety tips for clients. Click here to read more.
Last updated on July 28, 2022
Terms for traveling to the client
When you book me outside of my hometown, you must escort me from the airport and back to the airport. You must guarantee that I have a place to stay and sleep if it comes that I stay in your city at night. Usually, when clients book me they sleep with me, but that's just information, it's up to you what you prefer. I don't charge more than less what I expect. If travel time in any other transportation than the airplane lasts to the destination for more than 3 hours, the client has to choose airline service (if possible) or pay for the travel time according to my rate agreement (50 euros per hour, starting after the 3rd hour). If travel time by plane to the destination lasts more than 3 hours, the client has to choose a business class or higher flight or pay for the travel time according to my rate agreement.
Transportation: For longer distance OUTCALL travel the first 3 hours are free and cost you nothing extra, except reimbursable tickets. You can choose whatever transportation is for you more convenient to book. If travel time to you lasts more than 3 hours within Europe, I will charge 50 Euro extra per hour till I reach you. Traveling worldwide for more than 3 hours is at no extra cost if the client is paying for my ticket to business class or higher.
Insurance: The client must pay for travel insurance if the booking is outside my hometown. Travel insurance helps to avoid any unexpected fees that may be passed on to me (such as flight delays and/or cancellations, sicknesses, etc). Travel insurance can be requested only by me. I reserve the right to choose the best insurance provider for that in my sole discretion.
Payment and refund policy
Advance payments: Payment for the longer appointments: An upfront payment of 50% of the total amount of reservation is expected if booking lasts a total of more than 3 days. The rest of the payment is expected when the reservation time approaches half of the total time.
Fees: A client has to pay all the corresponding fees (legal fees such as, but not limited: visa processing fees, insurance, and so on, if applicable), and taxes from the third-party services (if any). The tax value will be added to the payment order and visible in a separate row with the explanation of tax.
If the client is canceling the whole reservation after the cancellation frame mentioned in the Reservation and cancellation section, the client has to pay 50% of the total cost from the ENTIRE reservation. Clients who are canceling the reservation partially must pay in full for the used time, plus 50% of the total cost from the rest of the booking that has not been used.
Accepted payment methods and currencies: I accept currently only cash or bank transfer payments. You can pay for my services only in EUROS, if not defined differently. I accept local currency only in countries where I travel on my own. In such a situation I may adjust rates for your currency based on current exchange rates and convenience.
"No-satisfy" and Refund policy: A full refund is available only for those reservations which have a cancellation requested by me. If you think you were not satisfied with the seeing result prior to the start of our appointment, you can cancel for free BEFORE the service starts. The concern must clear, reasonable, and feedback must be provided. Clients who do not withdraw from service within 10 minutes have to pay for any possible further withdrawals the full amount for the used time plus 50% of the remaining booking. If cancellation is shorter than 10 minutes after the start of service and no concern voiced from the beginning, clients have to pay only 50% of the first hour or night. The minimum requested time condition may apply. In the event of such cancellations during the client trip abroad, the client must organize the new transportation back home or provide me the accommodation for the rest of the stay. Any payments made in advance can be fully refundable according to these terms. If service has already occurred, the reservation marked as completed and the client has to make a full payment, and no refund is available.
For any case or any reason, extras such as outcall service fees and the late-night service fee ARE NOT refundable. The same rule applies also to transportation tickets. These costs and fees are subject to reimburse.
Advanced payments are refundable only for the bookings that are canceled extraordinary under the conditions and circumstances of Extraordinary cancellation (see the section "Extraordinary cancellation") or before the cancellation time (see the section "Cancellation time").
However, if I have denied other booking(s) due to the unavailability of the extraordinary canceled booking (loss of the revenue due to the unavailability), the full refund will not be available. In this situation, I reserve the right to refund only partially. The amount of the partial refund is at least 50% of the booking price.
All refunded payments will be issued to your Bank account within 14-calendar days.
Discounts: Any discounts offered personally to the client will lose its validity on any discounted booking changes and cancellations made by the client.
Discounted bookings are possible to make only during the low-booking day and valid only for the regular services, but NOT for any extras (such as but not limited: any applicable taxes, extra service fees, etc.), if not specified otherwise.
A discount can be requested only upon booking request and confirmation process, and cannot be added or modified any longer after the booking is confirmed, if not specified otherwise.
It is possible to add one discount at the time per each booking, if not defined otherwise.
Prepayments and reimbursements: Clients who want to book me for the OUTCALL private trip must pay my trip costs (for example, plane tickets or any transportation tickets). As long as we are together, you must also carry my food expenses and any extras (transportation, etc.)
Clients who want to book me for the OUTCALL private trip, are subject to the emergency fee, which consists of the travel time (minimum 50 Euro) plus 10% of the total amount, will be charged as an initial payment to confirm the reservation. This amount will be deducted later from the entire reservation payment.
A client requested private outcall trip reservations are confirmed once the customer pays the corresponding trips and fees.
If the client booking is outside European Union Economy Area (EEA), client is obligated to pay the initial amount of 50 Euro to cover the unplanned mobile operator costs (to use data and make phone calls outside EU) and any bank and other fees that I must carry on while being abroad. When client bookings is more than week, then such costs will be extended by 30 Euro extra per week, regardless of the actual need and usage. This applies also to clients with whom I travel together to outside or in outside EU.
Overnight bookings that are lasting longer than one night, are subject to the daily transportation fee reimbursement by the client, to cover my pre-purchased month ticket for the unused days, by dividing full monthly public transportation ticket costs to the days equal to the calendar month. The daily transportation ticket coverage is necessary because the time I spend with my client is not private. Therefore any expenses I have done during the business time are subject to cover by the client.
Fraudulent reservations
The reservation is FRAUD if the client meets any of the following conditions:
He has NOT FULLY (PRE)PAID reservation, and he does not show up to appointment;
He has NOT FULLY (PRE)PAID reservation, and he is late for the HOURLY-BASE appointment more than 30-minutes or late for the OVERNIGHT-STAY appointment more than 1-hour;
He has unreasonable extraordinary cancellation that is NOT PAID FULLY;
He is aggressive, drunk, dangerous, or poorly behaved;
Or violating my terms and rules in any other way.
Clients who are not showing up or are late on the date will get banned to make another reservation. Furthermore, to book me again, they have to arrange payment for their banned booking (s). Besides, all the payments from the banned clients are expected to make in ADVANCE from now to get their reservations confirmed. Also, they have to pay the late fee each day of 1% from the amount that has NOT paid in FULL.
Further actions: PLEASE NOTE, I have the right to collect and pass your data and information to the third-parties, if you do not pay for my services and/or you cause harmful danger to me. Third parties who are responsible for processing your data may be either police, incasso, court, lawyer, or any of these institutions together according to the regulations and law in Germany.
Security and safety
I have the right to cancel the reservation any time without warnings if I found during or before our appointment that the client is not keeping my rules, he is not respectful or not behaving well. For such situations with I ask immediately to terminate the service and get paid for the remaining time. In the case of client attacks or any dangerous situation, I may call cops or use self-protection. Please be adequate when we meet. Due to security reasons, I do not meet drunk and aggressive clients. If I come to your hotel or apartment, please make sure that it is accessible without interruptions and it is safe.
Reservation and cancellation policy
Data collected: To ensure that everything is going smoothly, you need to provide me with your phone number that can work. You receive a text message to the phone number you provided me upon booking. There are details about my apartment or hotel location. I never reveal my apartment or hotel location on any website, including the escort websites.
The number you provided upon reservation, must be confirmed in my own way. All other phone numbers or contact details that are presented after reservation, are not valid and cannot be used for communication. If the client contacted me on WhatsApp and he has not provided me other phone number(s), the default WhatsApp number will be used for further communication also over regular text messages and/or phone calls if needed.
First-time clients with new profiles created less than 3 days (72 hours) ago have to confirm their number, by following my instructions. If the confirmation with the number provided by the client fails, I cancel the reservation immediately and ban the client.
Clients who paid for their bookings in advance are exempt from verification and they can confirm the booking also with the valid email address, instead of phone number.
Cancellation time: The cancellation time for the OVERNIGHT STAY is equal to the number of overnights you are booking, but not less than 48-hours in advance (minimum is 2 calendar days), and HOURLY-BASED appointment up to 24-hours (1 day) before the start of the time.
Extraordinary cancellation: For less than 24-hours or 48-hours, depending on the booking type, the client must provide a reasonable cancellation reason with the corresponding evidence. If the client requesting a reasonable extraordinary cancellation, the reservation will not be marked as fraud. A reasonable cancellation can be:
Traffic delays or traffic jam;
Any incident that has caused not by you;
A sickness of you or your close relatives;
Death of your close relatives.
However, I have the right, at my sole discretion, to decide which is the "reasonable" cancellation and which is not.
REASONABLE extraordinary cancellation IS NOT, for example, your poorly planned routing or time planning, or any other similar reason caused by your fault.
For the extraordinary cancellation that is not reasonable, the client has to pay for the reservation according to what is stated on the Payment and refund policy section.
Short-term cancellation: If the corresponding type of booking has made during 24-hours or 48-hours before the appointment and it overlapping the allowance of cancellation, a client can cancel his reservation within 10-minutes after his booking is confirmed, without providing any reason.
Starting and ending time: Please be always on time. If you are late, please let me know. I start to charge for my hourly base a time when the reservation begins. All my bookings are time-based. The time is not refundable for incall hourly-based service when the client is late in our appointment. The time is refundable only if I am late for the date. If the client has an hourly-based appointment and he arrives earlier for incall service, or I arrive more prior for outcall service, the time starts when we meet and greet.
I have the right to take the next person from the waiting list and cancel the reservation on behalf of a client if the client does not show up. Clients in the queue are not subject to my terms unless their bookings are confirmed.
The starting time for overnight can be between 21 o'clock till midnight. If the client is booking me for the late-night call after midnight, then it is possible only to book with the late-night hour base rate. Overnight ends latest by 12 o'clock at noon after the last night of the booking. If the client is waking me up, the time is considering to be immediately over.
For longer bookings where the day is at no extra cost, the booking day after the first night will start at noon and ends at noon on the following day (one booking day is equal for 24-hours, except first night). Booking days will be charged for the current day nightly rate and any cancellations for the booking day will be treated as cancellations for the overnight.
First-time clients cannot book me for overnight at my place. Clients must have at least one completed outcall overnight or two hour-base completed bookings before they can book me for incall overnight.
Late-night outcall bookings: If the client wants to meet me after 23 o'clock for an outcall, they must order me a premium ride. The premium ride may be requested to the destination, using the service, called "Uber." More information on how to order a taxi from Uber, you can find on the website https://www.uber.com/. Late night and outcall service fees may apply as an extra to the base rates, and these fees are not including taxi drives.
Service policy
Safe sex policy: Any sexual activity must always be with a condom and safe. Safe sex means anal sex always with the condom and no cum on face or mouth (that also includes a precum – sperm ejection during oral intercourse). In the event of violating that rule, a penalty of 1000 Euro would be charged from the client. Please note, that German law requires from all the clients during the sex use the condom:
"A condom must be used during all sex acts – oral, anal, and vaginal. Prostitutes have the right to refuse sex acts without a condom. Prostitution establishments must put up a notice referring to the obligation to use a condom. Clients who do not use a condom may be fined. Operators and prostitutes may not promote unprotected sex" (Kondompflicht act).
Place of service: Any harmful activities are not allowed. Sexual activity should not be the purpose, as you book my time and companionship. I do offer my outcall services only at the private place (not in the truck, car, public toilet, park, or any of these kinds of places). Outcall service can be at your home, hotel, or any private rental apartment, if not specified otherwise. Your home must be clean. I do accept hotel visits only for the 4 or 5-stars hotels. If you come to my house, please be respectful and treat it the way you treat your home. Do not touch my personal items without my permission, except supplements such as oil and articles that I provide you. Remove always shoes and behave well.
Extra-person: All my rates are for ONE person, if not specified otherwise. If there are more people who have not been mentioned during the booking process, I have the right to deny offering services, ask them to leave, or charge the extra person rate for each who is not involved in the reservation, according to my pricing.
Activities: I do not participate in any unlawful activities which prohibited in the country where I offer my services. All our actions must be legal and obey the local laws. No drugs and gems are allowed during my companionship. All our activities must run legally from beginning to end.
Clients can take photos of me at no extra cost if I am on the photos together with the client and fully dressed. You can take photos together with me in nature, restaurant, or any public places, but not on the bed (even if we are fully dressed). Anything on the photo that has signaled for the escort services or sexual acts are prohibited. The photos are allowed to take clients who have at least 2 overnight bookings with me. Uploading these photos on social media is not allowed unless I give permission.
If the client is not in stable condition (too drunk, not controlling his behavior, requiring special assistance) and thereof needs getting extra care, an amount of 50% according to the current hour/or nightly rate will be taken from the client. That amount must be paid before the next hour or booking day begins. If a client is rejecting to pay for it, I have the rights to cancel the entire time of the remaining reservation, without providing any refund.
Service restrictions: I provide my services only for the clients who are at least 18 years old and capable to speak at least one of the following languages: Estonian, English, German, or Russian. I have the right to withdraw offering service for the clients who are not meeting one of these conditions above.
I do not offer services to my friends, partners, colleagues, and to my other close relatives. I may refuse or exclude clients at my sole discretion, without giving a reason and without being liable for any damage to the client.
Health responsibilities: I am NOT responsible for the client's health and his (sexual) performance if that is something that my service involved. If that requires to go over time, I have the right to charge for the extra time.
I am taking my health very seriously. During the appointment, I might ask sensitive questions about sexual health and the client must answer honestly to every question, so I can evaluate and avoid possible risks. I reserve rights to do follow-up checks from the clients I have had sexual contact prior to the health checks. Clients who have contracted the disease are subject to reimburse all treatments under the sickness and damage policy (see below).
Supplements: Any supplies (condoms, lube, etc.) provided by me should be used with great responsibility and respect. I will not offer you tons of condoms for just one date.
Sicknesses or damages: If the client is causing me any sickness or any damages during the reservation by his fault, he has to pay my rate for the remaining time, even if it is not possible to continue to provide service. If a client is causing me such damages (including also material damages) intentionally, he has to pay also for the medical expenses or/and any expenses to replace the damages. If I cause damages or health issues by my fault, the client has to pay nothing for damages and nothing for the remaining time.
Other things to keep in mind (!)
Incall means when the client is coming to my place to receive the requested service. Outcall means when the requested service is provided at the client place.
I am very open-minded – otherwise, I would not offer escort service – although there is no such thing like a "service portfolio." As you might know, many things depend on mutual affection and chemistry. Should you indeed have any special requests, please let me know?
Clients don't have to pay me in advance usually; however, I can any time to ask money in advance on the spot if I feel suspicious.
My sleeping time(s) for overnight stay(s) must be included to function normally. It varies between 8-11 hours normally. Sleeping varies depending on activities and productiveness. You must ensure and guarantee me to have enough time of sleep to feel well and rested.
If you need to do any activities that require to have special clothes and you have outcall appointment, please make sure to tell about these things in advance, so I can prepare and plan the appropriate clothes.
Advanced booking is greatly appreciated and highly recommended. To fully enjoy a meeting, you must be freshly showered, well-groomed, smell nice, and have minty-fresh breath.
Please be respectful and always be a gentleman. Your kindness, generosity, and chivalry will be appreciated and rewarded.
Please do not overstay our date. If you would like to extend our time, please ask me if I have additional time available and provide additional donation for the time you would like to spend.
No gratuities are ever expected, but for if you would like to surprise me with a gift then please feel free to ask or get inspiration from my wish list.
The donations are for my time and companionship only and they are not negotiable.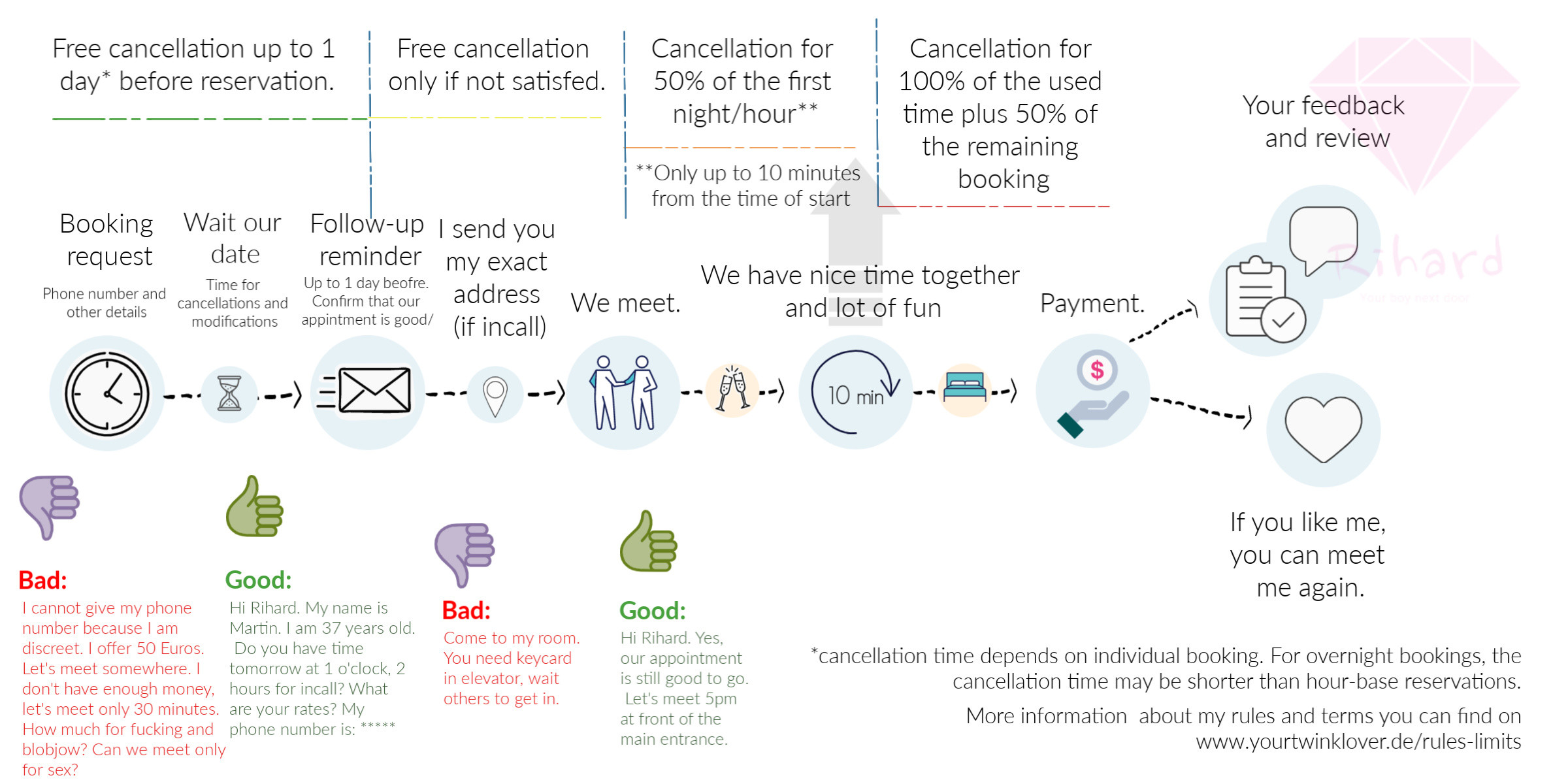 BY BOOKING ME ON ANY CHANNEL OR IN ANY SOURCE, YOU WILL AGREE WITH THE TERMS STATED ON THIS PAGE. THESE TERMS WILL TAKE EFFECT IMMEDIATELY AFTER SENDING ME A BOOKING REQUEST (that includes via "Book me!" form on top of the page as well). I have the right to change them regularly under my sole discretion and without giving advance notification. For clients who are not keeping my rules and/or violating my terms, appropriate actions will be taken.