I am covering my seventh week of suspension: Launching new features to comfort my clients during the suspension, working remotely while wearing the pampers, and easy money from the escort job. This is my weekly recap, from May 15th to May 22nd.
---

Week in my online services
At a glance on my OnlyFans channel: The week was dedicated to my OnlyFans for various content. Last weekend I did some personalized video for the client, showing him how I suck nicely banana, spit on it, and take it deep in my mouth. That video was not published on my OnlyFans due to the licensed purchase. So the video was only dedicated to one of the fans who requested me to do so. But despite that, my OnlyFans activity was a quite as busy bee. I did some uploads on Thursday and today on Friday, posting some more awesome content. For instance, I posted on Thursday some fucking scene, and on Friday, I did my first video of playing with dildo and putting it inside me. Here is the intro video for the dildo playing. The full video you can see now on my OnlyFans channel.
The polls and the answers: The webcam show with the client, as mentioned in my last weekly recap, did not happen. But I have a new feature for my OnlyFans subscriber: A dirty talk. Based on the responders, 71% of fans have excited about the dirty talk. The rest of them have answered that they are fine without it. Also, on May 18th, I launched another poll on my OnlyFans, asking what content they want to see next. And most of them have answered that they want to see me Jerking off and cum on my body or having fun with someone. In fact, in this extreme situation, I cannot make lots of videos having fun with someone, I promised still that I do my best to make it happen. However, it cannot be most likely my every week content, as the pandemic has restricted the ability to post such content. That's also one of the reasons why my OnlyFans pricing dropped down last week.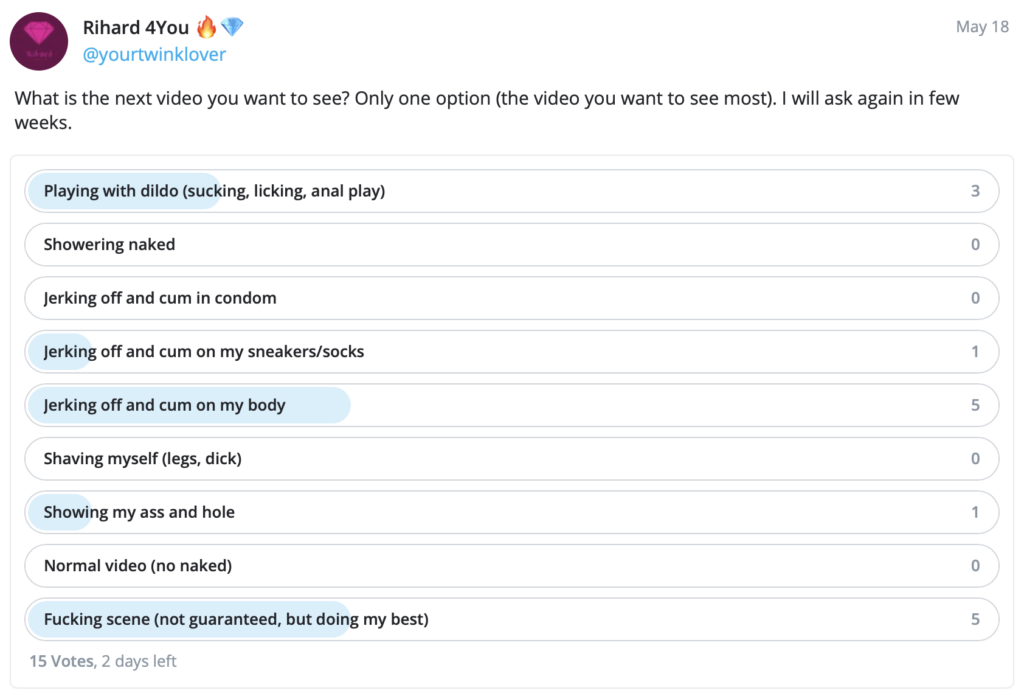 Line-up for my content: So, based on the answers, the line-up in the following days will be the next: I plan to Jerk off and cum on my body next. Then playing more with dildo, then Jerking off and cum on my sneakers/socks. And Showing my ass and hole. No one so far has requested to shower naked, Jerking off and cum in the condom as I did last week, Shaving myself (legs, dick), and simple video (not nude). But there are still 3 days left to vote on it. As polls, I plan to post frequently, asking for the next content so my fans can assure that the content they want to see will be published (except the content that can be not published due to the current crisis, such as having fun with someone). As the line-up reaches the last video, a new poll will be released, asking again for the video ideas.
Additional services during the escort suspension: While I try to publish at least two videos every week, you can do more during my escort suspension. For instance, you can request personal videos, as some of the clients have already done. The video will be produced only for you. You have the permission to download it and use it for your own needs, but not for commercial purposes or to upload it somewhere on a third-party website, without having the respective permission from me. Personal licensed video service is available only to my OnlyFans subscribers with the subscription at least 3-month. Now it is the best time to subscribe to my OnlyFans, as my pricing is the lowest in my OnlyFans subscription history. With the annual subscription, as low as only $2.50 per month.
---
Wearing the diapers for overnight
Finding alternatives to my escort services: I have kept busy my online services and promoting them more and more during the physical service suspension. Other clients who did not subscribe and were not interested in such services have been creative in their own way of entertaining themselves during the pandemic. For instance, one of the clients who have booked me a few times, have the pampers fetish. He was a bit concerned that I cannot meet him during the pandemic. Still, he found another way how to compensate for the service that he has received back in regular times. When we met for physical service last year, he always wanted me to be his baby boy during our date. So what turned him on was to see me wearing the pampers, that he can see me acting like a baby who pees inside them, and then he is my dad who changes the wet diapers. But we had no such thing as sex. The baby boy game was for him enough that he could find it exciting and hot. It is his fetish. And after changing the diapers, he peed inside the wet pampers.
Down to earth clients: Now that I have little time to look back when I offered my physical services, I thought a few days ago about my constant clients. The clients I met during the escort time had such different fetishes, turnons, and demands. Starting from clients like him, who wants me to be his baby boy, to the clients who want me to be his master, punishing and penetrating them hard, or even peeing in their mouth. But there were also clients, for instance, who wanted to be a little evil, by dressing in the unique costume. For example, I remember how I was on a client date, and he asked me to put the vampire teeth, the satan horns, and little bunny tail on my ass. He said that I look quite cute on it!
Working remotely: Going back to the story about the "pampers client" this week, then he asked if he can come and deliver me those pampers. Understanding that it is not possible to offer real services, he wanted me to do things like he would normally do, but alone. So he came this week to handle them for me and asked if I can pee in them, then with the dry nites to sleep overnight, and another pair to make them wet before he picks them up. That was the way how I extraordinarily offered my services this week. I have never thought about such services, but it was something unique and different. And I did not even have pricing for that. Still, making it fair, I charged not the full-service price as I did when we met for escort date, but instead, I charged according to the used underwear pricing in my fan store.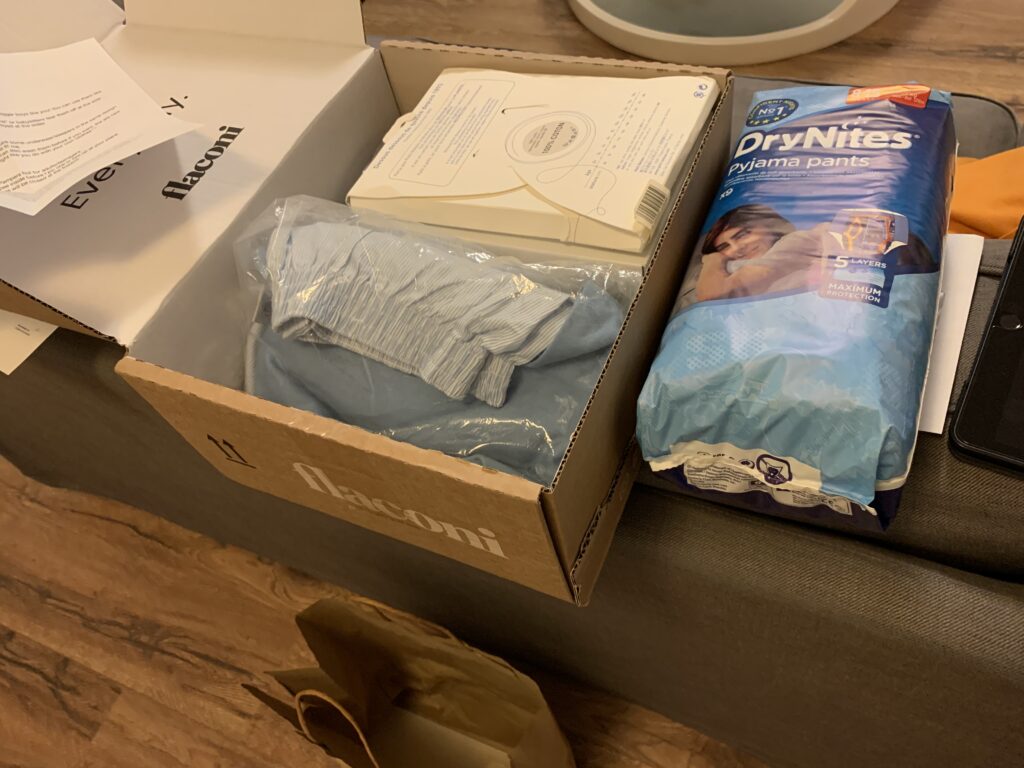 ---
Take most of it while escort services are suspended
My fan store: Talking about my official fan store, I have added some fetish products in my online store, accessible on my website. Currently, I have there some used underwear and souvenirs. Still, this coming week I plan to add more products as well as online payment gateway. Adding the payment gateway is now a headache for me. Because most of the payment gateway service providers are not accepting escort services. Even my aim is not to accept payments from the escort services, but to sell some fetish products. However, the shop runs on my escort website and might a bit confuse the payment provider. I'll try to find these days the compatible payment processor so it would be temporarily possible to pay online, without delivering cash in hand. Payment providers who accept payments also from escort services require more verification and work as the business type is considered to be "high risk" business. But selling products online for not escort purposes should be a solution for a temporary case. However, these payment processors will not be used to accept payments in further from my escort services when they become available again. Until I find the respective payment processor who can also accept payments from escort services.
Along with the online payment feature on my fan store, I also plan to enhance the product list by adding some more fetish products and accessories. Having said that, I expect next week to focus on more promoting my fan store products. Hopefully, there will be people who have much interest in buying them.
---
New useful features on my website launched

Quizzes on my website: This week, I focused on launching the Quizzes on my website. One of the spectacular Quiz that I launched this week was the match probability Quiz on Wednesday. The idea to begin that Quiz came spontaneously. However, I was a long time ago wondered if that could be a solution to make it even more engaging for my potential clients. The idea is to make them even easier to decide whether I am their type or not. The Quiz contains 17 questions about various topics, such as understanding the match of client type, the trivial topics, client attitude, and their principles on what they expect from the escort date. Then based on what respondents are answering, the scoring will add and deduct points from answers to reveal the result of match probability. Currently, there are four corresponding results/feedbacks: "We match," "We probably match," "We might match," and "We don't match."
In fact that the Quiz is discreet and anonymous, I still store the answers in my database, to analyze and improve the Quiz and its results. In a few days, I got 50 participants in my dating match probability Quiz, with an average score of 22.63 out of 35 and with the average match percentage of 65%. As I keep the questions and answers secret, I will not reveal them. Thanks to everyone who has taken part in my Quiz so far.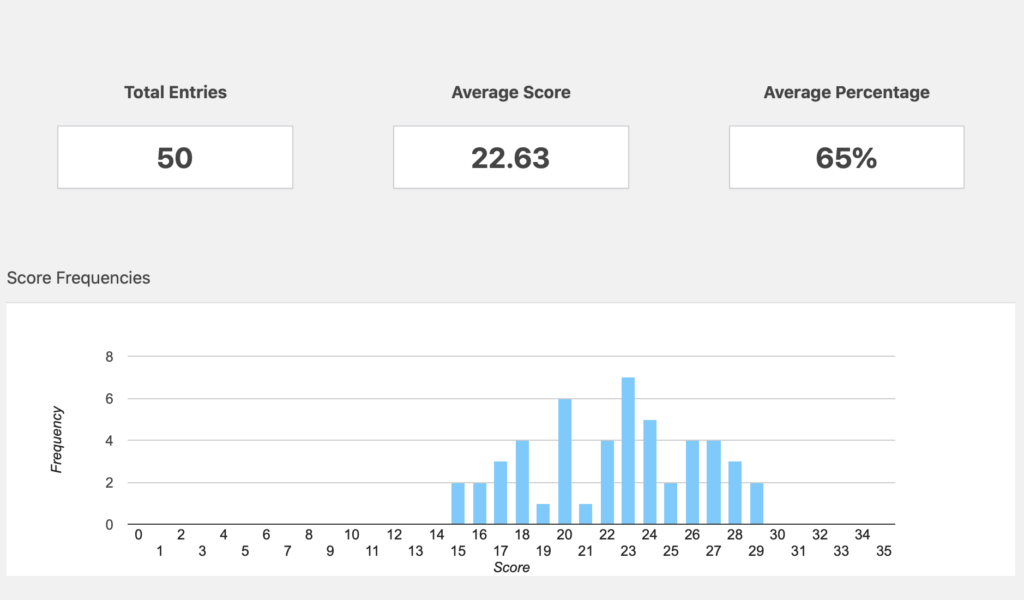 The aim of this Quiz is to bring more comfort and convenience for clients who are wondering about booking me after the escort suspension. As the questions are relevant to me, the clients can now know the possibility of how likely they would match with me.
---
Service guideline quiz
Learn the basics to meet an escort companion. While I have launched the dating probability Quiz, I also began another Quiz that I did not publicly promote. It is the service guidelines Quiz, that is also available on my escort site. The service availability Quiz link you can find on my Rules and Safety page, where you can participate in it discreet and anonymously. It helps my clients to understand how well they know about the basics of meeting an escort. Unlike my match probability quiz, which is more personal and applies only to me, the service guideline quiz helps find answers in most common situations when you meet an escort, whether you meet male or female.
---
My new Twitter retweet campaign starts on Monday
More engaging marketing strategy. This week, I made many decisions, getting inspired by others, or bringing alive ideas that I have considered before, such as Quiz's idea. The other approach, inspired by other Twitter and Instagram influencers, is to bring alive the "retweet campaign." During the escort suspension, I have more time to focus on online marketing and how to increase the followers. I start from Monday, May 25th, with the new retweet campaign, which aims to promote my online services more actively. For that, I have created a plan. On Mondays, Wednesdays, and Fridays, I invite all my Twitter followers to actively retweet some of my posts. Whenever someone retweets my tweet, he will be in my prize list to win some fantastic treats. Such as a 1-day pass to my OnlyFans content, a gift card for my online shop, nude content for Twitter, and much more. More information I will announce on my Twitter wall this coming weekend. First, I would like to see how I will progress in this campaign for a couple of weeks and then decide whether I continue with that. I invite all my followers to take actively part in this "game."
---
Now, a break from the news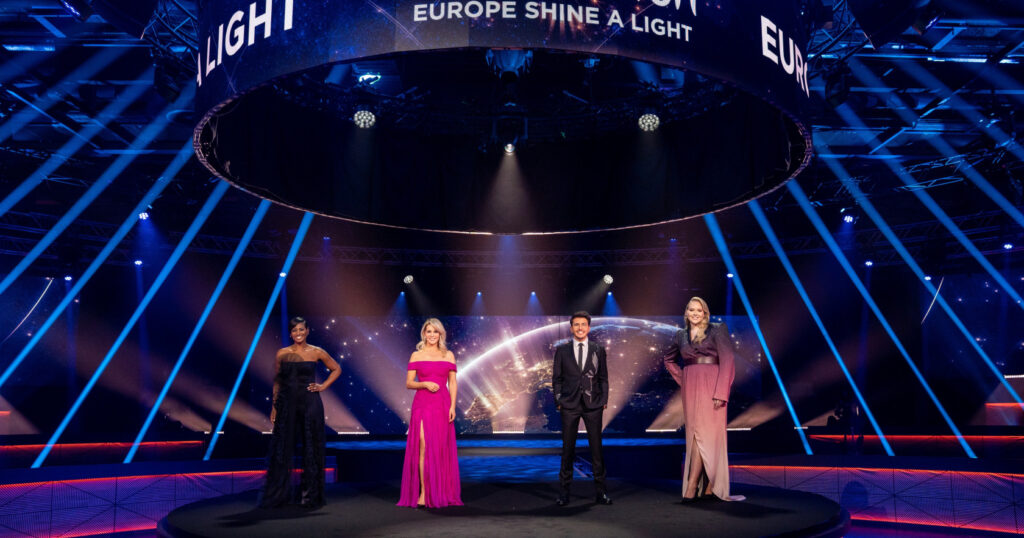 Cultural weekend at home: Last Saturday, the EBU has broadcasted the "Shine of Light" show. Honoring those who were affected by the cancellation of the Eurovision Song Contest. The "Europe Shine a Light" show brought many viewers across the world, including me. I watched the show at home. I have always been a big fan of the Eurovision Song Contest. For many years I have even had a chance to go and see the Semi-Finals at the venue. In Vienna, 2015 I had tickets for the semi-finals as well as for the Grand final, and access to the Eurovision Song Contest afterparties at Euroclub. In 2016 I went for the semi-finals to Kyiv, and in 2017 I saw the live-shows at the venue in Stockholm when Måns Zelmerlöw won the competition in Kyiv 2017. Due to moving to Germany last year and graduating the school, I was not able to go for the live shows as I have been swamped these years, but I always watched them. It is a kind of a tradition for me. Last year I even launched the challenge for my newsletter subscribers. If Estonia or Germany wins the competition, I give away generous discounts to my escort services for the rest of the year! Unfortunately, this year it was not possible, as my services are suspended, and there was no winner aimed for the "Europe Shine a Light" show.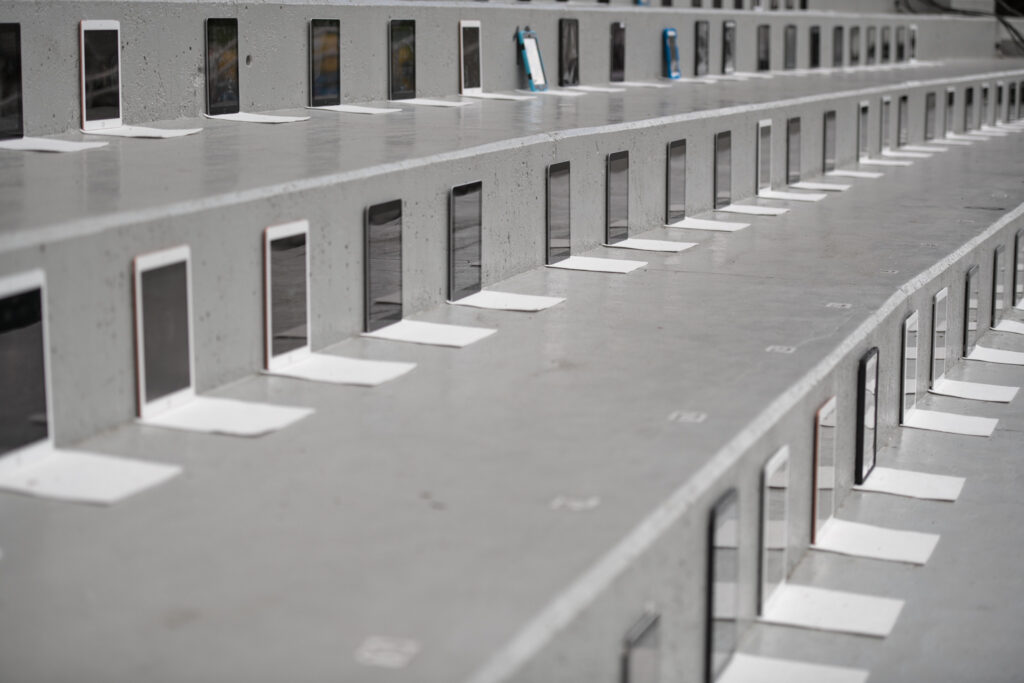 Day later, on Sunday, Estonia brought a spectacular show to celebrate the end of the emergency. However, some of the restrictions in my home country Estonia are still taking place. But the extreme situation in Estonia between Sunday midnight to Monday, have now ended. At the open-air stage, the concert was taken place at one of our historical and meaningful sites – at Song Festival Grounds in Tallinn. It is the place where we celebrate our significant national events once every two years. Last Sunday, it was a place where people across the globe, gathered together via tablet, to sing once again for freedom, love, and grace. There were no people outside seeing the show. However, people were allowed to go and watch it only in cars. So instead of applause, people have horned the vehicles after each song. You can read more about how they organized the event by reading it from the official local news.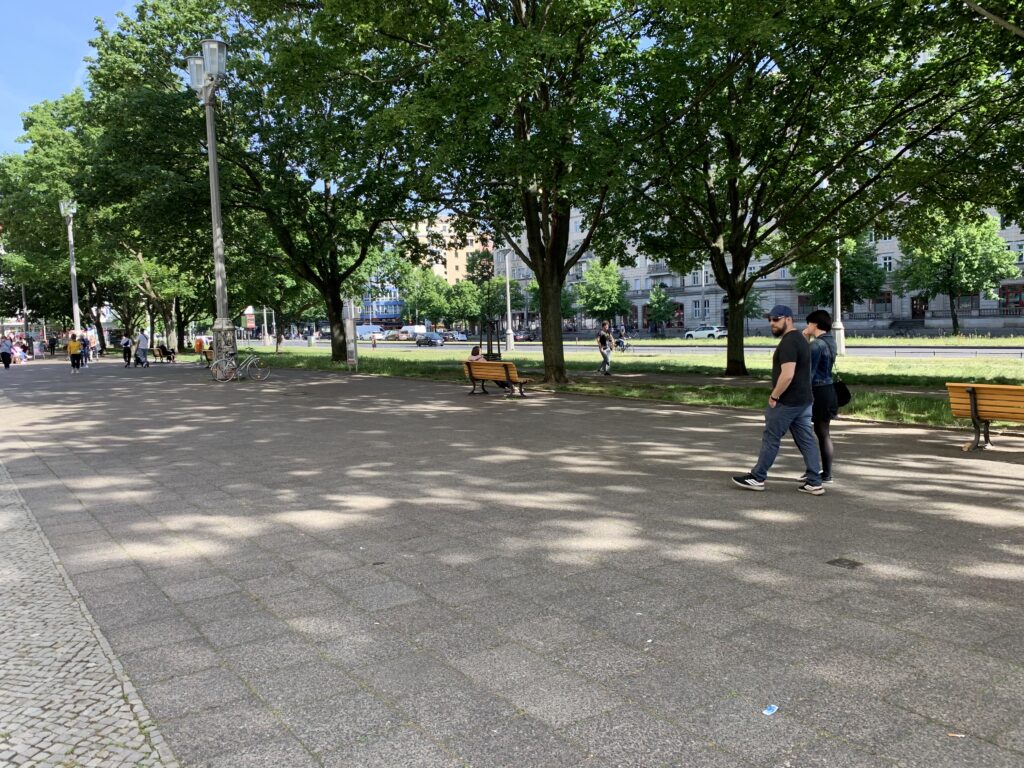 Mysterious women next to my house: Since March-April, I have seen a strange woman next to my house. Well, she actually looks like every other who enjoys the time sitting on the bench. However, she is there not "just sitting," but for some purpose. I have seen her consistently on almost every day since then, and she is coming to talk with people. Sometimes she sat on the bench and waiting for the next "prey" to catch him/her to talk about something. Unlike many such solicitors, she consistently sitting there for many hours. She usually comes around 11 o'clock and leaves at 18 o'clock, which takes 7-8 hours per day and each day of the week as long as the weather allows. And why she has mainly chosen to be next to my house now for weeks? And what is the message she wants to share? That question would most likely be a mystery for me, as I don't speak German. For me, it is also surprising how consistent it can be to sit outside for the entire day and do nothing other than trying to catch the people! Wow!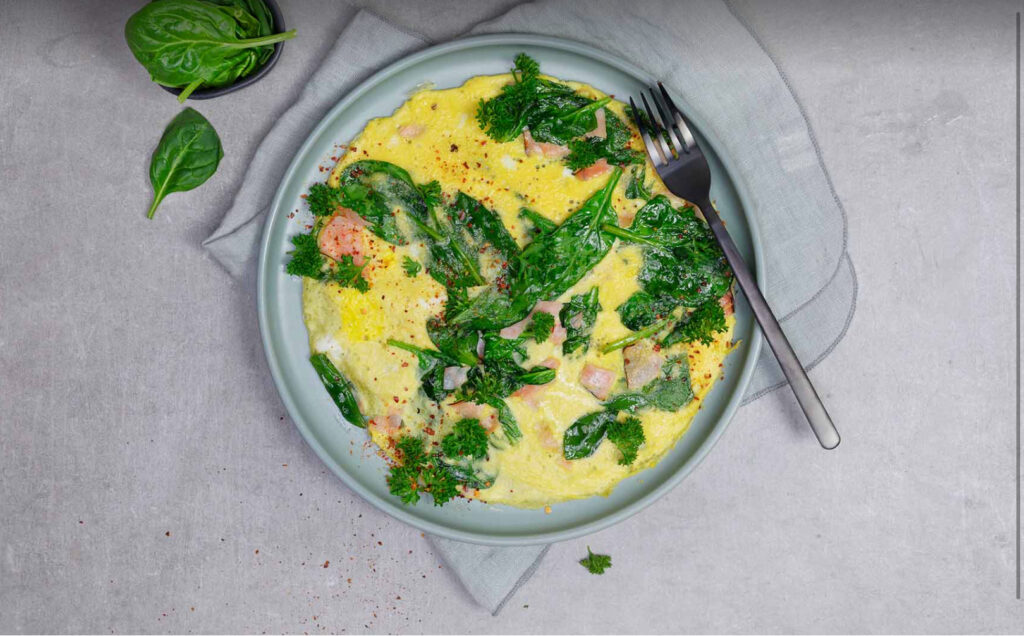 A simple recipe for my daily food: Now that I have more time to do home activities such as cleaning and cooking, I have explored some tasty and healthy recipes that you can try at home and see if you like it! I would be happy to share one of the tasty recipes that I use in my daily food with you. It's effortless and fast, but super healthy. In the next weekly recaps, I give you more of my daily receipts to try at home. This week's simple recipe: Omelet with spinach and turkey (about 10 minutes to prepare). What you need:
3 small Egg
1 cups baby spinach
1/2 tablespoon Olive oil
1.1 oz / 30 grams Turkey breast slices
Whisk together eggs, season with salt and pepper. Cut the turkey into small pieces. Add oil to a frying pan and fry the spinach and turkey for a few minutes. Add the egg mixture to the pan and fry it for a few minutes until its sets. Ready to serve! (Nutrition information: 4% Carbs, 35% Protein, 61% Fat)
My mother's birthday: Today is my mother's birthday! I have called her and wished all the luck and best, and encouraged to be strong. My mother got lucky because her birthday is in the month when there is also a Mother's Day. So she is definitely getting lots of attention from me during May.
Snapshot: As I'm not meeting clients now so often, I have noticed that I'm "bit" lazy in shaving my face. However, just so you know, I'm not doing it every day even when I'm escorting. I usually have to do it once or twice every week to look as twinkish as I am. But now, instead of doing it every week, I do it about once a week, when I feel that I become "too hairy." The week's snapshot is before I got shaved (you don't see much facial hair, but it was shortly before I cut).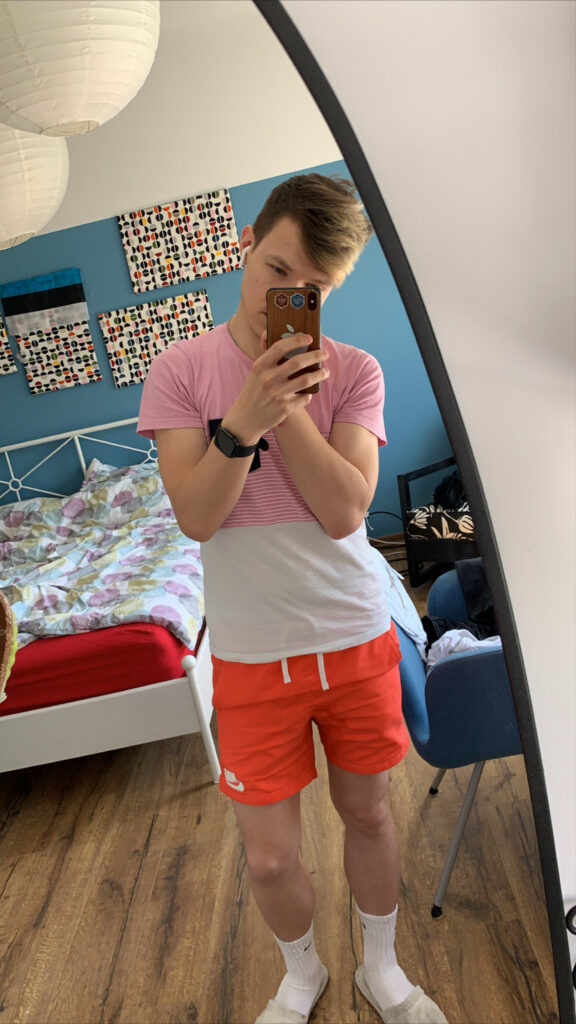 My tone of the week: Formal. Despite that Informative tone in my writing style has taken still the leading position, I have shown a significant increase in an informal tone. Some of the improvements you can also find in my optimistic tone. The friendly tone has had no changes in writing style, and neutral, appreciative, and forceful tones have little decreased. Launching the poll this week has little contributed to my leading, informative and formal sounds. Generally, the mood when I communicate with clients is dominating between friendlier, appreciative, and angry. By the way, my weekly recaps have a significant impact on these results. Find out the stats from last week below!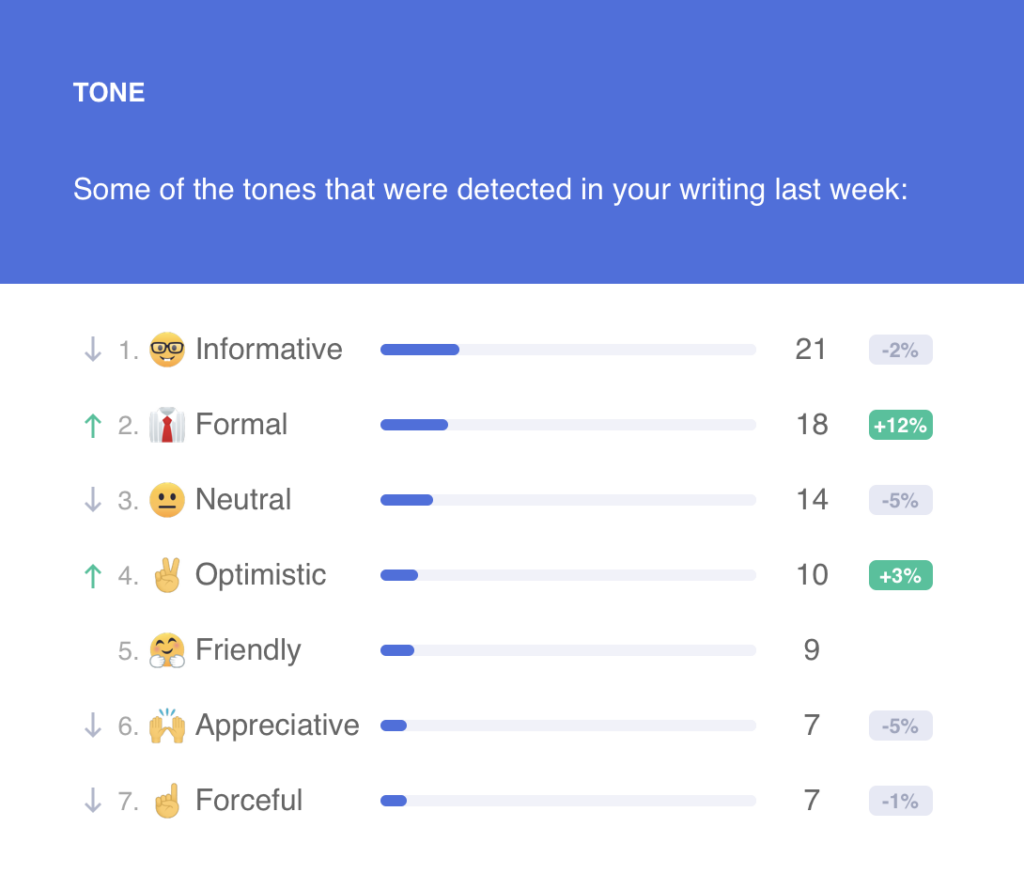 ---
And now, back to the news
My financial situation during the escort suspension
Aiming to receive help from the government. Over the past weeks, since I suspended my escort services for an undefined time, I have depended directly on the support from my clients, friends, and family. I still have not yet government aid, though I have applied for the joblessness in Germany. The papers are still in progress, and things are moving slowly, but there is yet no financial aid received from the government.
My fellows during the coronavirus crisis. Like I who have been struck by the coronavirus crisis, many other scenes, especially the nightclub sector, have been hit. Lutz Leichsenring from the local industry association "Clubcommission" said, that it is the biggest crisis for them the end of the Second World War. They have never had such a significant threat to the cultural scene. Winkler-Ohm told Tagesspiegel that yet without state aid, clubs like SchwuZ will be forced to rely on fundraising and online creativity to survive the crisis.
Clubs like SchwuZ have launched their fundraising project to support their employees, artists, regular staff, and organizers. While theatres, orchestras, and opera houses have been forced to close their doors, they can fall back on public funds if the crisis continues. "The difference between the city's other cultural institutions and us which have already closed…is that they are funded by taxes, whereas the culture we provide is funded by our clients," said Leichsenring.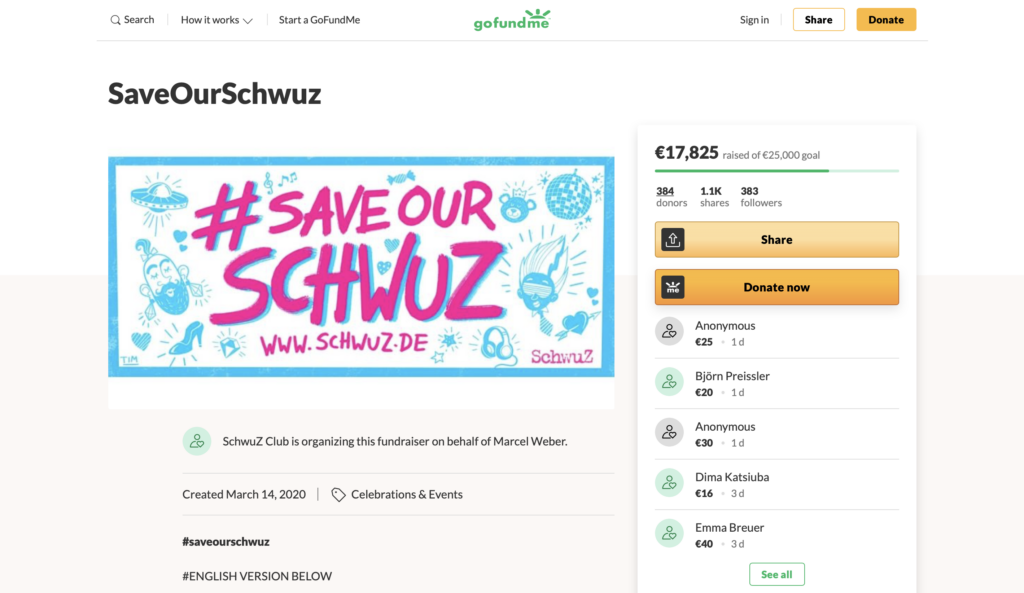 My future living in Berlin. As much as SchwuZ is trying to save their institution, I am asking to help and support me during the crisis, whether the amount is 1 euro or 100 euro – doesn't matter. Any donation warms my heart and makes the contributor special in my thoughts- whether you are my client or not. I have not yet received funds from the government. So right now, my future to be able to live and work in Berlin is in your hands. People have contributed over time for institutions such as SchwuZ, to support their future. Remembering times they have had there. Good memories they have made in this place. Or all the friendliness they have received by their staff. How much less should you be grateful for all the moments that I gifted to you? I'm not just an escort. I really do things in my heart, even if it is offering the escort services. I've been as friendly as I can. I've tried to be fair, but at the same time unique. Of course, I have my own mistakes, but I'm willing to improve myself. Instead of blaming, I'm striving to be reliable. Over the year since I started escorting, my clients were important to me. I see them not only as a source of money but as a person who should be treated the way they want to be treated. Along with "just a donation", I am willing even to give back my services at a later point. I am happy to do it.
I am not asking the donations directly from my clients. Because I want that it comes from the heart and desire.
You have seen all the words and the way how I organize my escort services. I have even offered for my clients to meet me as a friend, while typically escorts like me, they don't. One of my clients brought a good example. He compared me to the waitress at the cafe. He said that it's unusual, it's like you go to a restaurant and the waitress says that you don't have to pay for the tea at the restaurant, I can invite you to home. Isn't it evidence that I do really care about my clients? I am not asking the donations directly from my clients. Because I want that it comes from the heart and desire. Therefore it is better to pour my heart and my mind and thoughts in this recap with the hope, that it touches someone's heart.
Inviting people to support: So please, if you can afford a little donation, please send me a message. Without any donations, I might run to the situation when I have to pack my bags and say goodbye to my escort journey. Now its time to show your care and love for my work. If not now, then when? I thank you all those who have helped me, and for those particular clients. I will not forget people who have been there for me in this difficult time.
---
My friend of a friend is an escort!
His ex-boyfriend: Shortly after I finished my last week recap, I went to see my friend who also lives in Berlin. We have discussed our friends and life in general. While we have seen each other at the club, during the coronacrisis, we have been more in contact and meet each other in person. At some point, I'm glad for the crisis that helped me to bring people closer to me. So we also discussed more in-depth topics that are related to my work. He knows that I am an escort. So there was nothing strange to discuss this topic. He said that his ex-boyfriend is also escorting, but different than me. He said that he doesn't have an apartment in Berlin, so he stays in a place where the landlord takes a 50% commission of the escort income and takes it as a payment for the rent. I was a bit shocked when I heard this. After he explained and described to me his ex-boyfriend, who is working as an escort, I realized how fair his landlord actually is. According to what he said about their relationship between his ex-boyfriend and landlord. He told that his escort ex-boyfriend often when he suppose to meet clients in his place where he presumed to pay the rent. Whenever the client comes, he escapes from the apartment. My friend told me how unreliable his ex is. He doesn't like to meet clients. He is only at the flat when he has no clients. But his landlord did not know that until he realized that his clients called him regarding that concern because the way he got clients was through his landlord. His landlord took the phone calls and organized the appointment.
I have learned in my life that being fake cannot bring success.
Easy money: The boy actually wanted to work as an escort to get easy money. But not really meet clients. The fact that the guy actually did not have any financial capital, and his landlord wanted to help him to have somewhere to stay made me think a lot. Many questions, like "Why he does the job if he doesn't enjoy it? Does he really have no other choices in life that he must do the escort job? What is his mission and purpose of life?" I felt shocked but at the same time anguished. I have been so thankful for the opportunity to meet different people. I wouldn't imagine how I would survive now when I would escape from my clients when it was possible to offer escort services. Because of my willingness to do my job from all my heart, I have clients who see me as a charming and friendly person. But they have been there for me because I have learned in my life that being fake cannot bring success. Being yourself will impress people in times when you don't even notice. Listening to such shocking news made me think about my job and my mission even more deeply. That was definitely for me an inspiring night, discussing in such things.
---
That's it for this briefing and the weekly recap. See you in the next weekly recap on May 29th. Have a nice weekend!
---