I am covering my eighth week of suspension: my retweet campaign on Twitter, managing four different businesses during the corona, and finally getting aid from the government. This is my weekly recap, from May 22nd to May 29th.
---

Week in my online services
"Do's" and "Don't do's": Another week in my OnlyFans went modesty. I still upload two videos every week to keep my account busy and amusing. Last week I quoted many engaging facts about my OnlyFans on my Twitter wall. I have seen a bit around what others are doing, and I got many inspirations. Some ideas I adapted in my concept, and some I took as an example of "what not to do." I have pointed out many facts about how I manage my OnlyFans business and how I use the time when "I don't upload the content."
Feeling awkward: Well, it is clear that when you love to do something, you are happy. No matter if something goes wrong or not. But being passionate about what you do, means being also creative and obviously putting lots of effort into it. I have definitely seen a good business strategy in many accounts and in many ways. However, I like to be fair, but at the same time making good content. Online services require a bit more than just "uploading daily the dick pics." It needs to be creative, but to be creative, you have to leave a good impression and what I have learned, also engage people into it. Sometimes I had times when I felt being a bit awkward to ask every time the ideas and suggestions from my fans on what to upload yet. But I have learned that as much as in my escort services, being more personal and dedicated to your fans is the key to how people will eventually attach to you. It brings me back to the time when I remember how my friends often said: "Having a big dick is not enough if you don't know how to use it." Making exciting content for my OnlyFans followers is the key and principle of how I manage this business. I try instead to upload less, but more engaging content. I can imagine that having pretty much the same content every day only by changing angle or clothing can be incredibly dull.
As a result, I am keeping my content relevant, but focussing on more how I can make it enjoyable. It requires a bit more work and time, but it is definitely worthy of it. It's like a job that you need to work on to make more income because people would be foolish to pay for something that they used to see every day or every week. It's like eating the same breakfast for weeks and months, and you'll eventually get tired of it.
The phase of "getting to know each other better" is now over: This week, I ended up asking questions from my fans about different topics. Now what they have answered, I'll make a conclusion and work according to that. I have launched my OnlyFans since January 2020, and I am pleased that I got to know my fans a bit more. Those who haven't had a chance to answer to my fan exclusive polls can do it for sure in the future as well, but not as often as I did when suspended my escort services. Now the "phase of getting to know each other better" is ended. Still, occasionally I ask opinions from my fans on what they want to see next. And of course, as always, my fans can reach me out with ideas and suggestions at any time.
Expressing my pleasures through the videos: Last week, on Monday, I asked in my last poll of what they want to see the next. Most of them asked to see me in action with someone, but also equally, they wanted to see me jerking off and cum on my body. Over the months since I launched my OnlyFans account, I have learned from my fans that they really do like seeing me in underwear. And many of them like to see me to cum even inside my underwear. I have focused on not only showing me how to jerk off on my body but also express my feelings and pleasures throughout the video by showing my face and playing my moaning. The moment of my body shaking when I get an erection. Let's find out what they answered!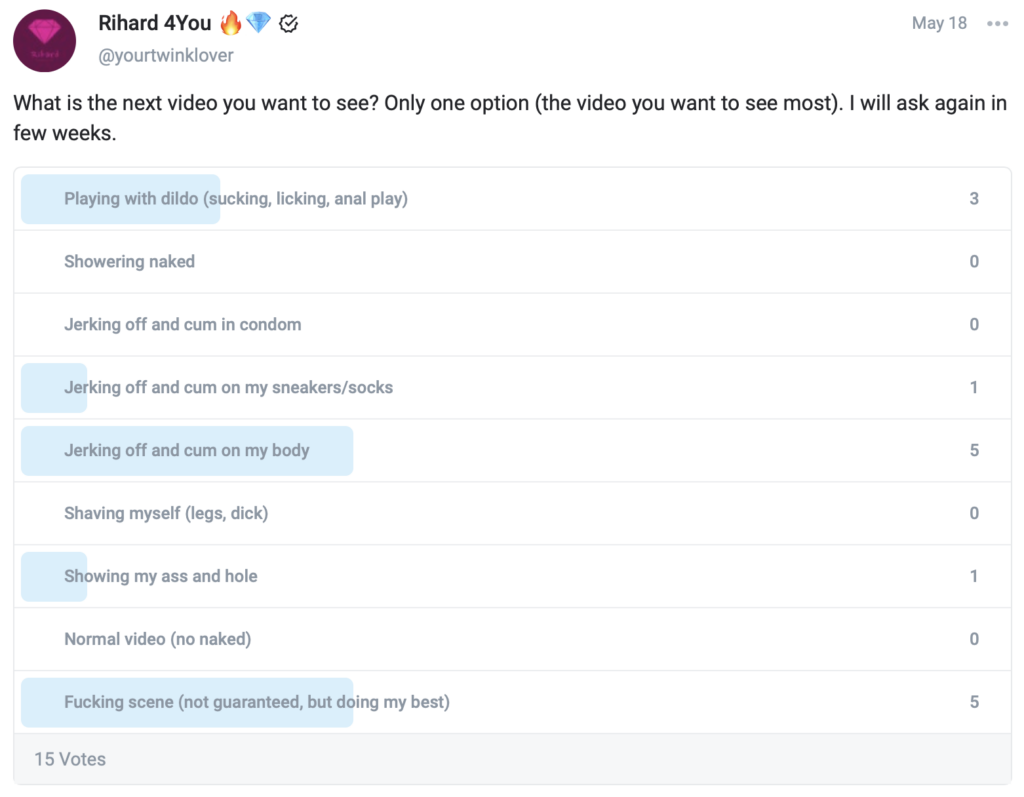 New content on my OnlyFans this week: The week of 8th in my escort service suspension, I uploaded the video of me jerking off on my body. Seeing my sexy body. Taking my red underwear slowly off and then starting to jerk, until a big load of cumshot all over my body. Find out how I did, by taking a look over on my OnlyFans account. Beginning of my 9th week, I start by showing my sexy ass, the hole, and a little bit dildo play. If you haven't subscribed, do it now. Because during the corona pandemic, the subscription prices for my OnlyFans are low-priced and affordable. Starting from only $2.50 per month with the annual subscription.
Other online services only during the escort suspension: Also, as a reminder, my dirty talk over the phone and webcam shows are still available. I keep my OnlyFans account active even after the service suspension. Yet, when my physical services become available, the dirty talk over phone and webcam shows will not be an option anymore. Webcam shows and private phone calls I offer to my clients only during the pandemic are an alternative option for my escort services. So take the chance now and if you have an interest in such services, use them while they are available. They are worth and definitely cheaper than cam guys on Flirt4Free.
---
My Twitter campaign
Keeping connected in many ways: During the escort service suspension, it is essential to stay connected with people who are following me and who have relied on my escort services before escort suspension. For that, I have created many ways how to do it. For instance, last week, I announced my quizzes, now I am also planning to extend and promote my online Fan Store. This week I have launched a Twitter retweet campaign.
Not copying all the ideas from others: Starting from May 25th, I post three times a week the photo of me – new and old – to invite everyone to retweet it. The idea came from the last weekly recap when I wrote about the marketing strategy to increase my Twitter followers. I have seen from many social influencers how they grow their followers and motivate their followers and fans to retweet their posts. Some of them are selecting the people randomly to award them rewards. And some of them are giving some motivation boost by showing something "more" of them. But as I wanted to be original and unique and not copy all the ideas from others, I developed on Sunday all night, shortly before my post came live, a spin wheel. It was a unique way of rewarding my retweeters. Instead of selecting them randomly from the retweet lists, it is a completely new and unique feature that I have never seen among those individuals.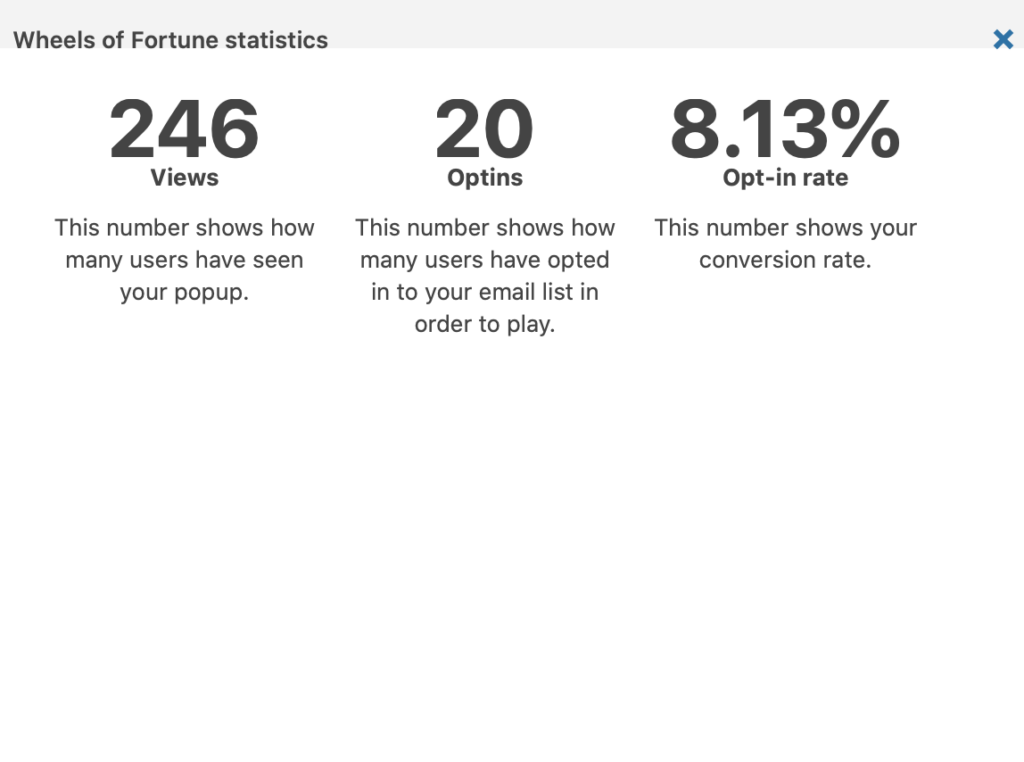 The chances and rewards: The way it works is that the person is following me on Twitter. He retweets the latest post on that particular retweet day and then spins the wheel to get amazing rewards. The chance to get something from the spin wheel is now 40%, which will be divided by the chances of finding rewards during each spin. The list of prizes and possibilities you may find now on my particular designated page for the retweeters. There are also some rules and minimum requirements to be able to receive rewards. For instance, a Twitter account must have at least 10 followers. In other words, a person who retweets my latest retweet post must have at least 10 people who follow him/her on Twitter. My retweet days are Mondays, Wednesdays, and Fridays – three times every week. The aim is to increase my followers' count and keep people engaged.
Impact on my Fan Store. As I have mentioned last week about my Fan Store, I plan to extend it with more products. The busy week and Twitter retweet campaign have unfortunately forced me to postpone my plans to en my Fan store. I aim to add more products and an online payment method to my Fan Store by next week. For more information when the Fan Store will be extended and improved, I'll give you notice in my newsletters and on my Twitter account. For those who have received on Monday the newsletter about my Twitter campaign, just for your information, my newsletter system again collapsed. I have experienced some delays with email sending. I tried several times to re-send the email to ensure delivery, and as a result, it caused mass email income. I apologize for the many emails you may have received during that day. It was not intended.
---
Now, a break from the news
Hope to travel to Estonia soon: On Thursday I called to my parents. My stepdad asked me: "Do you know that you can now travel to Estonia without quarantine requirement?" I was like, whaaat? Really?!? Then in a few minutes after the phone call, I got the very recent news from Estonian media that starting from the next week, the government is lifting the travel ban. That also applies to the quarantine requirement for all those arriving from countries with low-risk of infections. I was so excited, and it lightened up my heart full of joy and happiness. I haven't seen my parents and relatives now for more than half a year. My plan to go to Estonia in May was unfortunately canceled due to the strict measurements in traveling. Will my dreams come now true, and I can see my parents finally? This answer may hopefully find an answer in the coming weeks. Meantime I am monitoring the current situation, and I have hope in my mind that expectantly, it happens already in June.
At the same time, I also miss my friends who I haven't seen for a long time. One of my best friends is from Vienna, and he promised to visit me in Berlin in the next few weeks. I am looking so much forward to that excitement. Hopefully, things are getting eventually so good that we can get back to a regular life that we have missed for a long time.
Celebrating my Gold client birthday. The week was festive for me in many ways, but definitely, one of the noteworthy facts is my Gold client birthday that week. On Tuesday we celebrated his birthday, just like friends. And two days later – on Thursday, we celebrated one year since we know each other! It was one year ago, on May 28th, when we met the first time for the overnight date. He said: "rihard, we have known each other for a year, and i worked my way up to the gold client status. What would that have thought back then?! you are the perfect person for me. i love to be with you I love lying in bed next to you, feeling you, smelling you🥰.you are perfect for me, as ordered from the catalog. I admire you that you can adapt to all clients and please everyone. Keep up the excellent work, and I'm excited to see how our friendship continues. I'm getting noticeably older, and sex is less crucial than when I was 20 years old.🙋‍♂️"
And like you, I will never forget what you did well and, above all, lovingly. You have a good and great heart for everyone.❤️👏 – he said.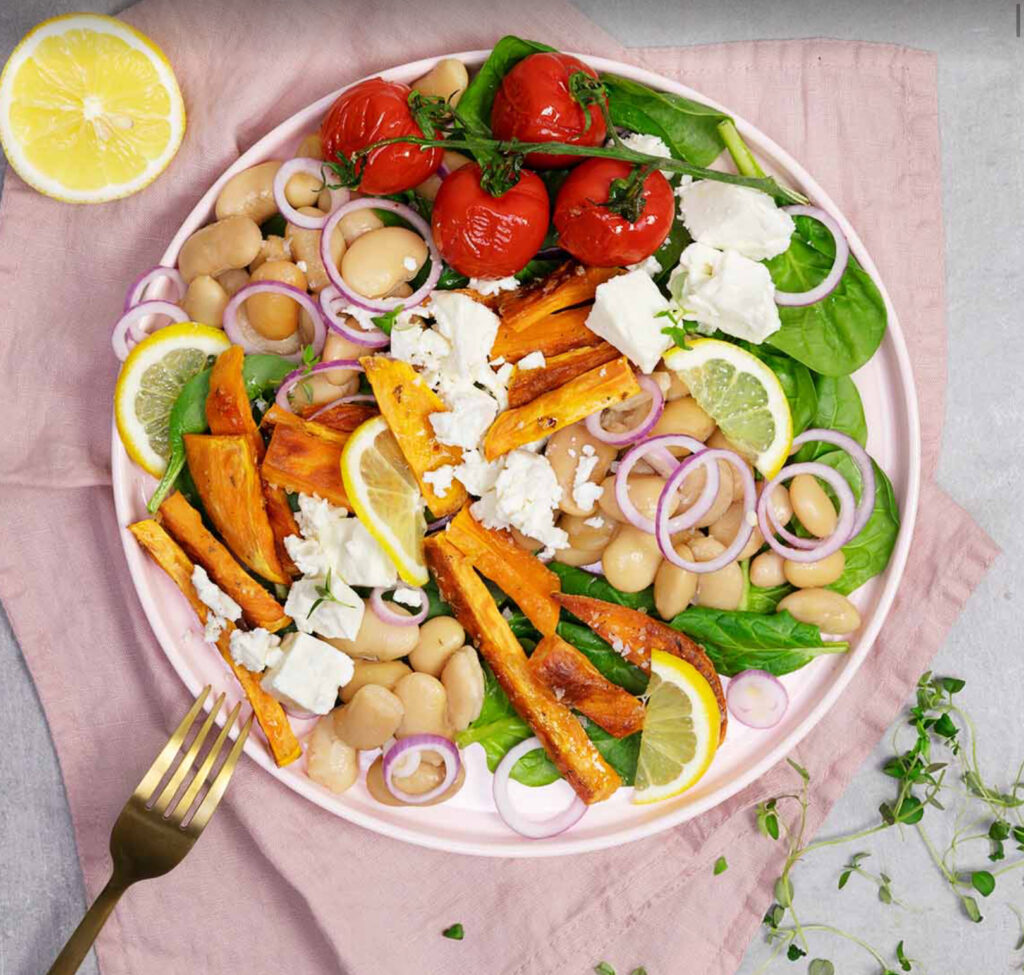 My home-cooked recipe during the lockdown: Feta cheese and bean salad. During the lockdown, I have more time to cook at home. When I offered escort services at a regular time, I had not much time chef. Clients were keeping me busy almost every day, especially in summer. Now, as I have more time, I have a bit of time to explore around in my kitchen and try new healthy ones. This week I am giving you a simple recipe for my dinner meal: a Feta cheese and bean salad. The ingredients you need:
130 grams Sweet potato
50 grams Cherry tomatoes
3/4 cup Cooked white beans
1/4 small Red onion
1/2 cups Baby spinach
50 grams Feta cheese
1 tablespoon Olive oil
1 teaspoon Lemon juice, fresh
Set the oven to 225 C. Peel and cut the potato into wedges, add salt and optional spices on top of the potatoes and tomatoes, and roast on a baking sheet for 20-30 minutes. Rinse the beans in water and cut the onion into thin slices. Add the spinach, sweet potatoes, and tomatoes onto your plate. Drizzle the oil and lemon juice on the beans. Crumble the feta cheese on top. Season with salt, pepper, and fresh herbs.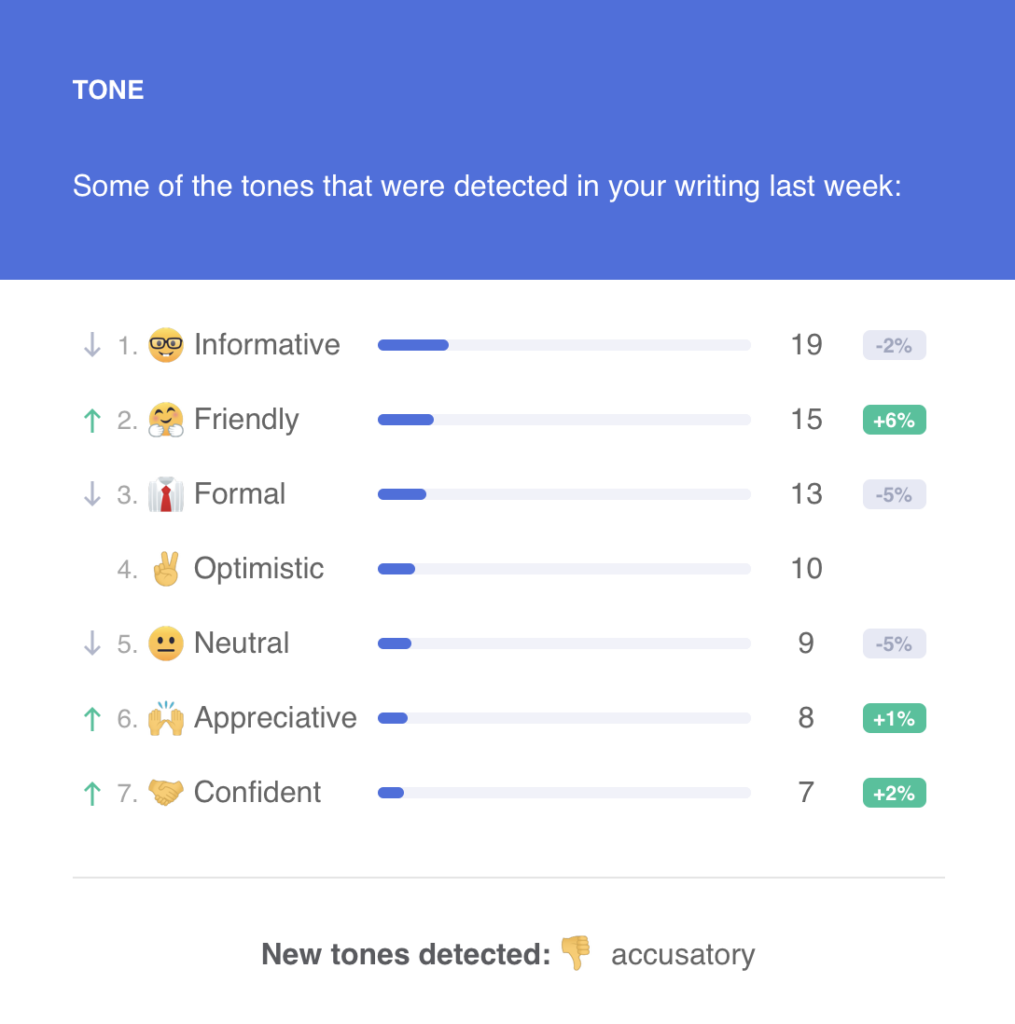 My tone of the week: accusatory. The informative tone is still leading, with little low than last week. But as you see, I have an increase in friendly tone by 6%, being confident with 2% and appreciative with 1% more than last week. A more significant difference is in my formal and neutral tone by being 5% less dominated than the previous week. New sounds were detected this week, too: I have been accusatory. Find out the complete stats above.
---
And now, back to the news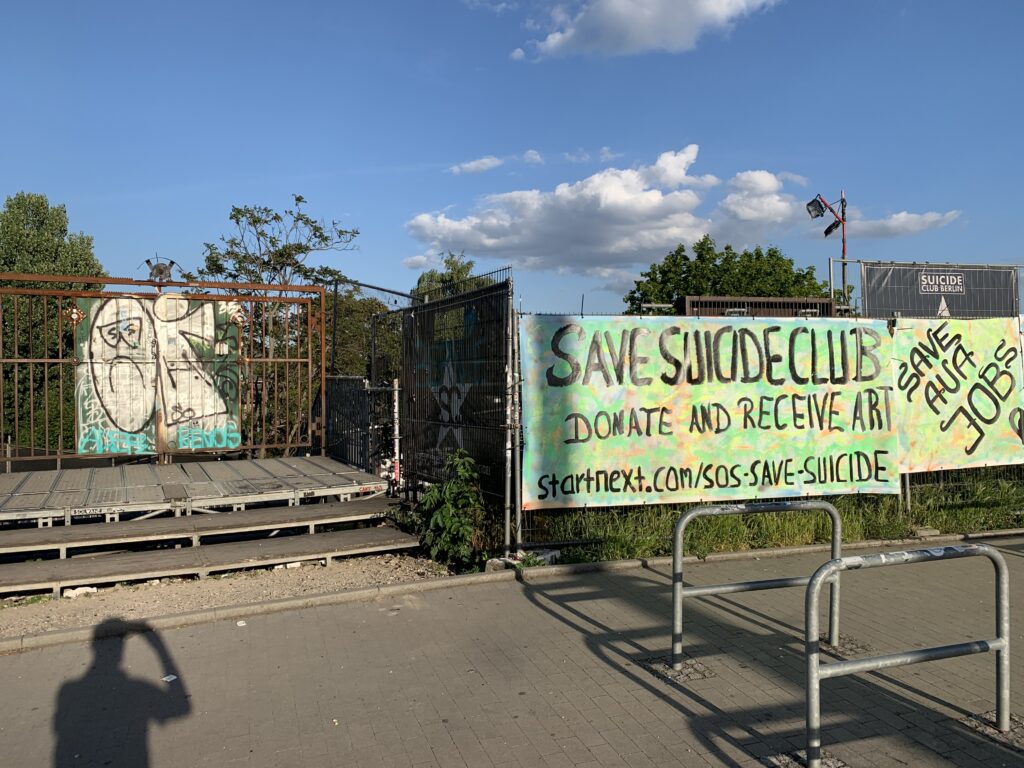 Receiving government corona aid
Income rapid decrease. After almost two months, since I suspended my escort services, I have been working hard to get aid from the government. My total sales from all the business activities have decreased by 95%. This means that I have had almost no money for these months. Other than what my clients, friends, and family have sent me to live. Now that I have been in touch with the corresponding institutions to seek help, I have finally funded by the government. With the corona aid that is entitled to the self-employers. And because of the corona help, my financial situation has become much better. I can invest money in my expenses that I cannot reduce during the service suspension (such as phone bills, and website maintenance fees), and I can save money to overcome the crisis and ensure my stay in Berlin.
Blazing views for the future: The year has been definitely challenging. Since April, I have had to ask for support from my family and friends. I am thankful for their help. The help did not only came in a financial way, but also in supporting me with all the paperwork and documentation I've had to make do to receive such benefits. On Monday, I talked over the phone for one hour with one of the representatives to discuss the next steps. I got many useful tips that help me survive the crisis, especially in financially and career-wise. For instance, I got the offer for the German language integration courses funded by the state. It includes about 900 hours for the language course and certificates in the event of completing all the courses successfully. The aim is to achieve at least a B1 level in the German language, which helps me to go thought new possible jobs and education processes in the future. I also have scheduled kind of business meetings in the coming weeks, discussing my job and my financial things.
If I didn't run the business professionally from the beginning, those benefits would not be available for me, and I wouldn't survive the crisis the way I do now.
Speaking in general: Thanks that the corona help was possible only because of my legal and transparent business activity. If I didn't run the business professionally from the beginning, those benefits would not be available for me, and I wouldn't survive the crisis the way I do now. Now many may think that I am crazy and too conservative regarding the correctness. But because of that, I managed to succeed and survive in these difficult times, while those who did not do things correctly, in other words, did not register their escort activity here in Germany, are now suffering. I am much thankful for being transparent not only with my clients and with me but also with the tax institutions. It is essential that no matter if you are an escort or doing something else, you do register your business activity. A few days ago, I talked over the chat with one of my clients who booked me before the crisis. He asked my situation, and I told him that the crisis hit me as well. He said that he has so many boys he supports because they have no money. But they are escorts and probably not registered their business legally, which is, unfortunately, more common than those who do. Now they are suffering because they cannot get any help from the government.
Therefore I strongly advise everyone to run the business legally. It is not only to receive such benefits when needed but also to assure better and more stable life in the future. The current situation is an excellent lesson for those, have not done this. And hopefully will make them think things differently in the future. It is not a wise idea to mess up with the tax controllers and local law.
---
Managing multiple businesses during the corona crisis
Fun fact is that my clients have told me many times that I am a real businessman. I can do at the same time finance, bookkeeping, marketing, system maintenance, and maintain the products/services. All in one, but in different ways.
Managing four businesses: Even though that my escort services are not physically served right now, my responsibilities have increased in many ways. If someone wondering if I do only escort work, then that's not true! It was not even true when I did before the pandemic. Considering that managing membership and membership exclusive content on OnlyFans is the business, it is not the escort business. Therefore it can be treated as a separate business activity. In other words, the job where you don't offer escort services but virtual services. Having said that, now that I have thought about my responsibilities and how I make money during the escort suspension, I found two other businesses in my duty. Among the escort services that I don't offer right now and OnlyFans that I do, I also manage my Fan Store and other online services. Such as private phone calls and webcam shows. So If I count all those types of services together, I found that currently, I manage a total of four businesses that are under my responsibility. Although not all of them bring me equal income, they make me feel like a real businessman. Fun fact is that my clients have told me many times that I am a real businessman. I can do at the same time finance, bookkeeping, marketing, system maintenance, and maintain the products/services. All in one, but in different ways.
Business passion is eating my personal life. It is definitely in my great responsibility, and to be honest, managing them is a tremendous time-consuming responsibility. I literally feel even after the escort service suspension, that my time, after waking up early in the morning (around 8 o'clock), is just gone like nowhere. I feel how less time I have for friends because I have activities I need to do almost every day to maintain all my businesses well. Among that, I also need to find time for cooking, workouts, and language studies.
---
That's it for this briefing and the weekly recap. See you in the next weekly recap on June 5th. Have a nice weekend!
---